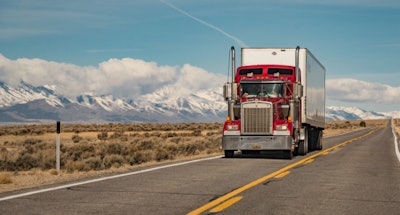 The Federal Motor Carrier Safety Administration today announced it's seeking public comment on a potential pilot program that would allow drivers ages 18 to 20 to operate commercial motor vehicles in interstate commerce. It will publish a notice in the Federal Register Wednesday seeking public comment.
At present, drivers ages 18-20 currently may only operate CMVs in intrastate commerce.
In July 2018, the DOT announced details of the Commercial Driver Pilot Program required under the Fixing America's Surface Transportation (FAST) Act, which allows certain 18- to 20-year-olds with military training to operate CMVs in interstate commerce. The new pilot program is open to all 10=20-20-year-olds.
FMCSA requests comments on the training, qualifications, driving limitations, and vehicle safety systems that FMCSA should consider in developing options or approaches for a second pilot program for younger drivers.
Some of the main topics the agency is seeking information on include:
What is the available data on the safety performance of under-21 intrastate truckers?
Are there concerns over insuring under-21 drivers for both intrastate and interstate commerce?
What minimum training should be required for drivers in the pilot program?
What kind of supervision should be required?
Should there be training requirements for mentors, supervisors or co-drivers of under-21 truckers in the program?
Should participating carriers be required to establish a formal apprenticeship program?
Should there be time or distance restrictions on younger drivers?
Should younger drivers be prohibited from hauling hazmat and oversize/overweight?
What standards should carriers and drivers have to meet to participate in the pilot?
What should happen if drivers in the pilot are convicted of violations while operating interstate?
At what point should a driver or carrier be removed from the program?
Should FMCSA require safety equipment or onboard recording systems in the pilot?
"We want input from the public on efforts that offer the potential to create more jobs in the commercial motor vehicle industry while maintaining the highest level of safety. We encourage all CMV stakeholders to submit comments on a potential interstate pilot program for younger drivers," said FMCSA Administrator Raymond Martinez.
Comments can be filed by searching Docket No. FMCSA-2018-0346 at www.regulations.gov beginning Wednesday.