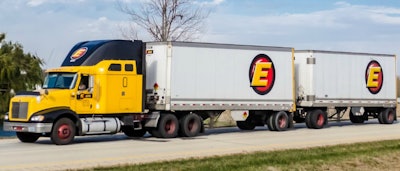 Several major trucking companies are included on a new list of America's 500 best big companies.
Named to the Forbes list of America's Best Large Employers are:
159. Estes Express Line
202. FedEx
226. Penske Logistics
311. Averitt Express
349. Crete Carrier
372. United Parcel Service
481. Old Dominion Freight Line
Estes jumped more than 300 spots to a ranking of 159 this year, making it the highest ranking trucking company on the list.
The Transportation and Logistics category of Forbes' list was dominated by airlines. Southwest Airlines was ranked second out of all of the top 500 companies. JetBlue, Hawaiian Airlines, Delta and Alaska Airlines were among the top 200 companies on the list.
Grocery store chain Trader Joe's was number one on the Forbes list.
Forbes based the list on an independent survey of over 50,000 employees covering 25 industries. Survey participants worked for companies with at least 1,000 people in their U.S. locations, and they responded to open-ended questions about their employers.