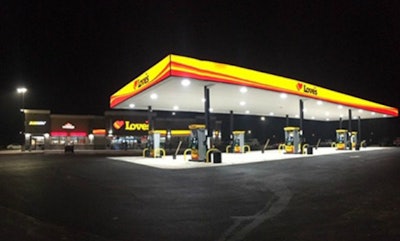 Love's Travel Stops & Country Stores today announced it plans to hire more than 2,000 employees for its travel stops, country stores, truck care centers, Speedco locations and its Oklahoma City headquarters. In Houston, Musket, the trading and logistics arm of Love's, and Trillium, a leading developer of alternative fueling systems, are also hiring.
"With the impact of COVID-19 on the economy and job market, it's likely a good time for some to explore opportunities they may have never thought of before," said Shane Wharton, president of Love's. "We want to ensure potential candidates know about the variety of jobs available with Love's that can re-energize their careers."
On Thursday, April 2, the U.S. Labor Department announced a historic weekly high in unemployment claims when 6.6 million Americans filed for first-time unemployment benefits. Today, April 3, unemployment went from 3.5 percent to 4.4 percent, with the rate expected to reach double digits soon, according to a statement from Love's
Love's has been declared an essential business by the U.S. Transportation Department.
Those interested in working for Love's can visit https://jobs.loves.com/.
Search thousands of trucking jobs to find the job you want.
Find Your Next Job Today