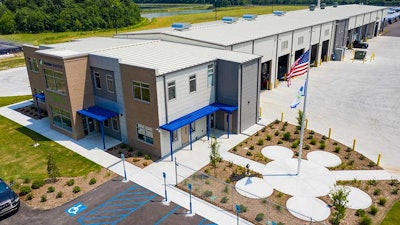 Knoxville, Tennessee-based bulk chemical hauler Highway Transport recently opened a new $12.5 million service center in Geismar, Louisiana, which the fleet says will serve customers across the Gulf Coast region.
The new location is Highway Transport's 14th service center in the U.S. and opens after a year-long, multi-phase project. The facility includes a six-bay maintenance shop, four-and-a-half-bay tank wash, multiple offices, and conference room. It also provides full amenities for Highway Transport drivers, including a break room, Wi-Fi access, showers, and more within the secure, gated facility.
The carrier will add 36 jobs over the next year at the new service center and expects employment there to grow to 150, including 100 drivers.
The new facility can accommodate up to 150 tanker trucks from the company's fleet of more than 400 trucks on regional and long-haul loads.