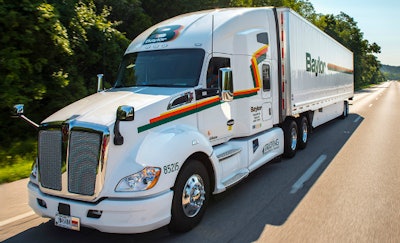 Baylor Trucking, a family-owned truckload carrier specializing in expedited dry van and refrigerated shipments, announces a 75 cents-per-mile pay rate for team drivers as the company celebrates its 75th anniversary.
Milan, Indiana-based Baylor Trucking is now starting its team drivers at 75 cents per mile with a $3,000 minimum weekly guarantee, according to a statement from the company. Baylor also has an unlimited referral bonus for drivers that pays 5 cents per mile for every mile a referred driver runs during their first year. The company said drivers are earning an additional $5,800 to $12,000 in referral bonuses per year.
"As we celebrate our 75th anniversary, we are so proud of our professional drivers for delivering the most essential goods to keep America moving," said Cari Baylor, president of Baylor Trucking. "The pay increase is a very substantial hike for the trucking industry and is made possible by a dedicated team of professional drivers and office support staff who provide our customers with the highest level of service."
During 2020, Baylor Trucking significantly expanded its business with longstanding customers in dedicated lanes. Nearly 100% of the loads in Baylor's freight network are contracted. The dedicated freight network enables Baylor to provide its drives with consistent lanes and home time as well as maximum miles by having trailer pools at all shipping and receiving locations for no-touch drop and hook freight, according to the comapny.
Baylor serves the 48 contiguous states with an emphasis throughout the Midwest and Mid-Atlantic regions.
The company was founded in 1945 by Chester Baylor, and his legacy continued with the second-generation ownership of Bob Baylor. Today, the company is led by President Cari Baylor. It operates a fleet of 264 Kenworth, Peterbilt, and Volvo tractors.