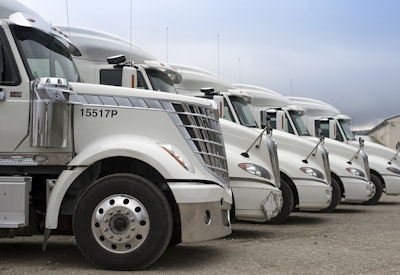 A Pennsylvania family-owned trucking company observes its 40th anniversary with the addition of a special online presence. It plans a celebration in the Spring.
Patrick A. Gallagher founded PGT Trucking Inc. in 1981 in Industry, Pennsylvania with one truck and two employees. Today, PGT has some 1,030 employees and operates 1,000 power units and over 1,500 trailers. Headquartered in Aliquippa, Pennsylvania, the flatbed company flatbed serves the steel, building materials, machinery, oil and gas, raw materials, aluminum, and automotive industries in the U.S., Canada, and Mexico.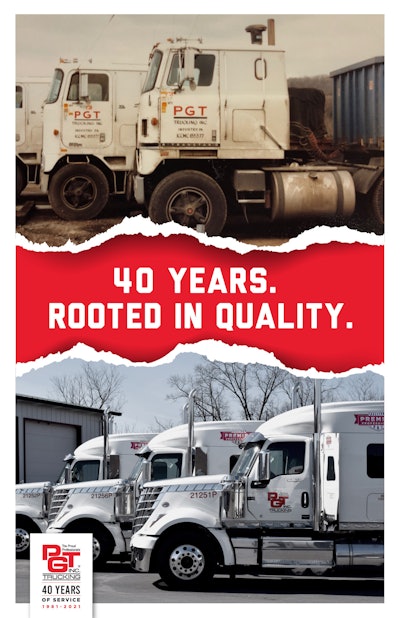 "From day one, PGT has focused on smart and strategic growth," said Gallagher, the company's founder and CEO. "By networking with our customers and vendors, we quickly expanded to over 30 terminal locations across the United States."
Over the last 40 years, PGT has grown through a series of acquisitions and expansions, including:
1987: PGT opens Warehouse Distribution of Pittsburgh, a full-service warehousing complex for the steel and industrial goods industries
1991: Pittsburgh Logistics Systems, a third-party provider for international freight transportation, logistics, and technology services was formed
1995: PGT's Laredo terminal was established, opening the gateway to Mexico
2000: Southern Pines Trucking, a division of PGT, is founded to focus on cryogenic tanker moves for industrial and medical-grade gases, and hazardous materials, and eventually later expanded to deliver oversize/overweight specialized commodities
2006: acquired Midwest Logistics in Champaign, Illinois to create a van, refrigerated and Conestoga division
2013: PGT acquired Liedtka Logistics in Trenton, New Jersey, to provide flatbed services in the Northeast
2014: acquired Kelworth Trucking in Poteau, Oklahoma
2016: moved its headquarters to Aliquippa, Pennsylvania and opened a new driver training facility and terminal in Blairsville, Pennsylvania
"I am so blessed to have such a great group of drivers and employees working here at PGT, many of whom started with the company in the 1980s and are still with us today," said Gallagher. "In an industry that struggles with high turnover rates, I feel that this is a true testament of our principles and our mission. We are in the people business, not the trucking business. It is the drivers, the leadership, the support staff and the truck maintenance teams who have all contributed to the success of this organization over the last 40 years."
In May, PGT holds its annual million mile and safe driver celebration at The Willows in Industry, Pennsylvania. This year, it will be held in conjunction with additional 40th anniversary festivities.