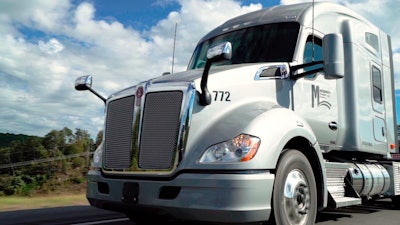 Montgomery Transport, a major flatbed carrier based in Birmingham, Alabama this week announced a three-cents-per-mile pay increase for its drivers. The company said it also has extended its driver appreciation pay incentive an additional month through the end of February.
Effective March 2, all current drivers will receive the three-cents-per-mile increase on all miles. The pay increase operates with the loyalty pay incentive making even higher earnings possible for Montgomery Transport drivers, according to a statement from the company. The tiered loyalty pay recognizes that prior loyalty tenure to their previous employer shows great character and drivers can earn up to an additional three cents per mile. Drivers will also continue to receive an annual one cent per mile tenure pay increase.
Montgomery said it's extending its Driver Appreciation Pay in recognition of the hard work and dedication of its driving force. This program enables company drivers to earn an additional two cents per mile for all miles they drive through February 28. Drivers are eligible immediately upon hire.
"We are so excited to be able to offer this well-deserved pay increase, recognizing our professional drivers for their service and dedication coming out of a difficult year," said Rollins Montgomery, CEO of Montgomery Transport. "Our perseverance as a company and team has made me incredibly proud. This pay increase is the largest we have had in company history and a great way to celebrate our upcoming ten-year anniversary.
"These pay programs add up to huge boosts in earnings for professional and loyal flatbed drivers – even more so since we pay on practical miles rather than short miles, averaging a 4% variable increase. Our most tenured drivers are forecasted to earn up to $.66 cents per mile. We're always looking for ways to reward our most valuable asset behind the wheel."
Montgomery Transport is a nationwide, flatbed carrier specializing in over-dimensional freight and full transportation management.