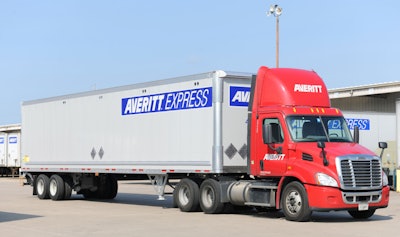 As part of its 50th anniversary celebration in 2021, Averitt Express recently announced pay enhancements for associates at its 85 LTL service centers.
All associates at the company's LTL service centers, including CDL-A local city drivers, shuttle drivers, team shuttle drivers, CDL-A qualified dock associates, non-driving dock associates, diesel mechanics, freight clerks and administrative associates, received increases.
Additionally, Averitt is offering a referral program that pays up to $3,750 for the hiring of a referred candidate, and a rewards program that incentivizes positive actions such as achieving operational goals and safe-driving milestones.
"Our local driving and support associates are the champions of the communities we serve," said Barry Blakely, Averitt's vice president of operations. "For 50 years, Averitt has been committed to serving our customers and our team, and this increase will ensure that we can continue to provide exceptional service in all areas."
This increase for local associates comes just weeks after an increase for regional truckload and flatbed drivers. Those drivers also have an opportunity to transfer to local or dedicated driving positions throughout the company's network after just 6 months of regional driving.
Based in Cookeville, Tennessee, Averitt has more that 5,400 drivers.