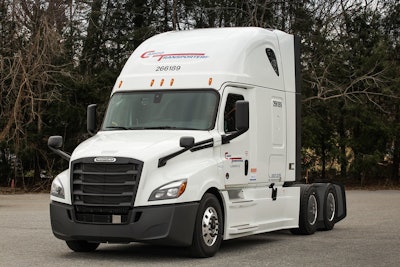 Cargo Transporters, Inc., a regional and national truckload carrier located in North Carolina, will increase pay for its over-the-road drivers as of Sunday, July 4. It's the second driver pay raise this year; the first was in January.
Cargo Transporters will increase solo driver pay 2 cents per Rand McNally practical route mile on all dispatched miles, increasing starting base pay to 52 cents per mile. Team driver pay will increase 1 cent per mile on all dispatched miles. Along with the rate per mile increase, the productivity bonus will rise to 3 cents per mile, according to the company.
"We are committed to ensuring Cargo Transporters is a premier company to drive with, which means investing in our people," said Jerry Sigmon, Jr., chief operating officer. "We are pleased to announce this second pay increase in 2021, totaling over a 10 percent gain in earnings for our essential workers, commercial vehicle operators. By providing strong pay, competitive benefits, and top-of-the-line equipment, we want to retain and attract the best talent in the industry."
Cargo Transporters operates 500 trucks serving the continental U.S. The company terminals in Claremont, Charlotte, and Rocky Mount North Carolina and employs over 700 people.
Cargo Transporters drivers receive holiday pay, vacation pay, and have the potential for a weekly productivity bonus. Other benefits late-model equipment and a benefits package that includes 401K with company match, health, dental, vision, life, short and long-term disability insurance.