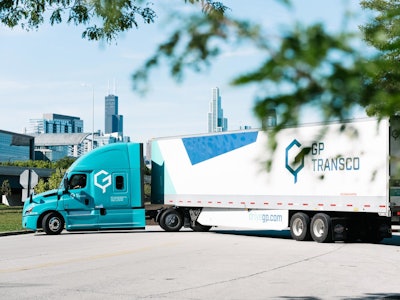 GP Transco, an over-the-road trucking and logistics company based in Illinois, was recently recognized by the Chicago Tribune, and the Top Workplaces website.
The Top Workplaces award recognizes companies that successfully create positive corporate cultures that put employees first.
The process of determining the winners of Top Workplaces consisted of the Tribune conducting anonymous surveys among GP Transco's staff including office employees, shop technicians, and the company's 500+ professional over-the-road drivers.
RELATED NEWS: GP Transco latest carrier to increase driver pay
"The past few years have put organizations around the world to a test," said Dominic Zastarskis, CEO of GP Transco. "Seeing our amazing office staff, outstanding technicians and professional truck drivers continue to do great work without sacrificing efficiency or quality, all while allowing the company to continue to grow has been truly extraordinary. We are really proud of the team and cannot thank them enough. GP Transco's growth and success could not have happened without them. It is a pleasure to provide our team with a great place to call work."
GP Transco provides dry van freight transportation and logistics services to a diverse group of clients across the United States and Canada. An EPA SmartWay Carrier Partner, GP Transco has over 500 trucks and over 700 trailers.