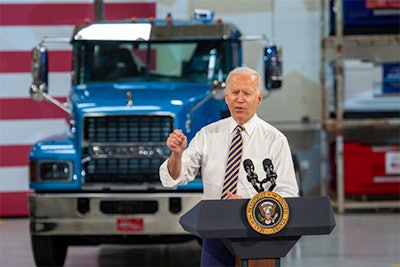 Mack Trucks
President Joe Biden today announced an involved plan to use the resources of the federal government to address the trucking industry's long-standing problems of attracting and holding onto qualified drivers.
The Biden-Harris Trucking Action Plan calls for a 90-day effort to "lay the foundation for a next generation trucking workforce that will strengthen U.S. competitiveness and support millions of good driving jobs for years to come."
Biden's plan comes on the heels of infrastructure legislation passed last month that began to address trucking's employment concerns. The action plan's key provisions include:
Attracting more military veterans to trucking industry jobs

Bringing more women into the ranks of professional drivers

Supporting an already approved pilot program to train and license 18-20-year-old drivers to deliver across state lines

Increasing the number of apprenticeships and making them easier to create

Providing funds and other assistance to states to address challenges in their CDL processes

Holding listening sessions with drivers, carriers, and unions to improve driving jobs
In announcing the plan, a White House fact sheet said: "... we are asking industry, labor, and all levels of government to partner with us to address these trucking workforce challenges and begin building a next generation trucking workforce. A stronger trucking workforce is one where trucking jobs are good, safe, and stable — jobs that employers can attract a new generation of drivers into while retaining existing drivers to deliver for clients and grow their businesses. The nation's trucking workforce also demands clear, debt-free paths into these good jobs through high-quality training, such as Registered Apprenticeships, which prepare trainees and provide employers with a steady pipeline of skilled, safe, and experienced drivers."
The Biden-Harris Trucking Action Plan comes as a recent poll found Americans expect elected officials to solve the problems that have occurred in the nation's supply chain.
A survey by the Consumer Brand Association found "the supply chain is going to be a major issue with voters in the 2022 midterm election — and that they expect their elected officials will act on solutions to prevent the next supply chain crisis."
Ninety percent of respondents said it was important that trucking capacity be increased next year to meet supply chain demands. Eighty percent said they expect their senators to act on trucking issues.
Respondents also had suggestions on solving trucking's problems. They included:
• Creating "air traffic control" to match empty trucks with available loads
• Offering hours of service flexibility to truck drivers
• Allowing a reasonable increase in truck weight limits
• Government funding for truck driver recruitment and training
• Government funding to accelerate production of new trucks
Search thousands of trucking jobs to find the job you want.
Find Your Next Job Today