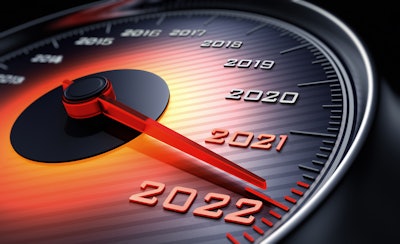 It's a pretty safe bet we can all pretty much agree that 2020 was a dumpster fire someone tried to extinguish with gasoline and then dropped it into the middle of one sort of natural disaster or another.
But, it gave way to 2021, which while not a leisurely cruise down an open interstate, still was an improvement.
Many carriers raised driver pay and improved benefits. Some COVID-19 pressures eased as many Americans got vaccinated and states and localities eased restrictions. Most truck stops began to offer more dining options and many delivered more than just grab-and-go options.
But, 2021's return to something resembling normal also meant more four-wheelers getting back on the highways, which meant more pre-COVID congestion. The supply chain has made headlines for all the wrong reasons and inflation and production issues have driven up the price of diesel.
So, Truckers News wants to know what kind of year 2021 has been for you, and what you think is in the cards for 2022. Take our two polls.
And, if 2021 was exceptionally good, or exceptionally bad, or included changes in your life or career, send me an email with the details to davidhollis@randallreilly.com
Now tell us how you feel about 2022.
Looking forward to another good year of trucking, or fearful of what lies ahead? Looking to run more miles and make more money or happy to maintain the status quo? Plan on changing jobs or like it just where you are?
Likewise, if you have big plans for 2022 let me know. Changing jobs? Getting out of the industry? Hoping for a promotion? Drop me a note at davidhollis@randallreilly.com