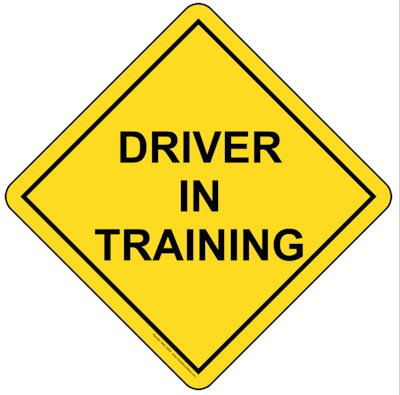 New York Gov. Kathy Hochul earlier this month signed a bill into law that allows 18-20-year-olds to obtain commercial driver's licenses in the state, with certain requirements.
New York's new law requires under-21 CDL applicants to complete a "CDL Class A Young Adult Training Program," as well as a minimum number of hours of supervised driving.
The law requires that the training program "be no less than the Entry-Level Driver Training requirements prescribed by the Federal Motor Carrier Safety Administration." It will include no less than 300 hours of behind-the-wheel training under the immediate supervision and control of an experienced driver. The law defines an "experienced driver" as a CDL holder at least 21 years old who has not had a reportable accident or violation for at least a year, and has a minimum of one year of commercial driving experience.
New York was the last state in the U.S. to require CDL holders to be 21 or older. Alaska requires drivers to be 19 to hold a CDL and drive intrastate. All other states allow intrastate CDL holders at 18.
The new law has no bearing on federal interstate driving laws, which currently require a CDL holder to be at least 21 to cross state lines. The infrastructure package signed into law earlier this month calls on the DOT to establish an apprenticeship pilot program for under-21 CDL holders to drive interstate.
Livestock haulers get more HOS relief in infrastructure law
The bipartisan infrastructure package passed by the U.S. House of Representatives and signed into law by President Joe Biden earlier this month includes a provision that gives livestock and insect haulers additional hours of service relief under the agricultural hours exemption.
The law amends a provision in the Motor Carrier Safety Improvement Act of 1999 to exempt livestock and insect haulers from the hours-of-service rules when they are within 150 air miles not only of the source but also their final destination.
The law already exempted livestock haulers from HOS rules while operating within a 150 air-mile radius from the source of the shipment.
Now, livestock and insect haulers will only have to abide by hours limitations if they exit the 150 air-mile radius of both the pickup location and the destination.
Additionally, such a hauler would only be required to use an ELD if he or she had logbook-necessary trips for more than 8 days in any rolling 30-day period.
To operate under the exception, haulers must be operating during planting and harvesting season as defined by the states they're operating in. In many states, however, such season is defined as Jan. 1-Dec. 31.