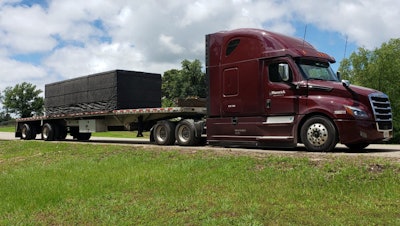 Arkansas-based Maverick Transportation recently announced five major benefits changes for its fleet of over 1,600 truck drivers.
With Maverick's recent adoption of the Stoneridge/MirrorEye safety technology, it made the decision to retrofit all of its 2021 tractors in the upcoming months. Maverick drivers have overwhelmingly accepted these safety systems, the company says.
Also, beginning with the upcoming Thanksgiving holiday, all Maverick drivers will receive a new holiday pay benefit. Each driver will receive $100/day for each of the following holidays: Thanksgiving and the following Friday, Christmas Day, Memorial Day, Independence Day and Labor Day, totaling $600 more per year for every driver.
RELATED NEWS: Maverick Transportation announces second company-wide pay increase
Maverick is also rolling out a new Unlimited Wi-Fi Program that will allow its drivers to stay better connected to their friends and families. This Wi-Fi will cost less than $1 a day and be available in every truck.
Effective on Jan. 1, Maverick is increasing its current 401k + Match program to a 100% match up to 5% of the employee's pay with a cap of $5,000. This move affects all Maverick employees.
Finally, Maverick is reducing its health insurance premiums for its full coverage health plan by 20% for 2022, providing savings to all of its employees that range from $388 to $1,632, depending on the plan.