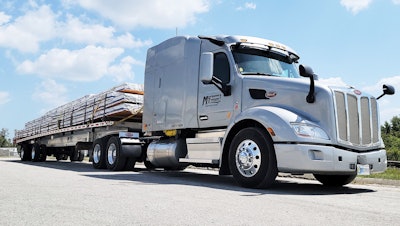 Montgomery Transport, a flatbed carrier based in Birmingham, Alabama, announced a new pay program and other benefits it says show "appreciation for its hard-working drivers."
Over the road drivers will receive extra Appreciation Pay of five cents for every loaded mile from Nov. 2 to Jan. 31, 2022. Dedicated drivers will also receive an increase in daily pay over the same time period.
"This recent cycle has been one of the most dynamic, yet difficult times many of us have seen. Our drivers stepped up and kept America moving forward," says Rollins Montgomery, CEO of Montgomery Transport. "We are excited to show them our deep appreciation in many ways."
Montgomery has also implemented a number of initiatives to express gratitude for its drivers and elevate their benefits. During the colder months, when tarping is more challenging (Nov. 2 to Feb 1.), Montgomery increased tarp pay for legal standard loads from $35 to $50 and over-dimensional loads from $50 to $60.
Drivers who have been with MT for at least 30 days are now eligible for guaranteed weekly minimum pay of up to $1,200 depending on tenure. Previously, eligibility was after six months of tenure with the company. Additionally, those who have been with the carrier for six months are now eligible for vacation pay rather than at one year.
In July, Montgomery increased breakdown pay from $100 per day to $150 per day. The carrier said it also has made "significant investments in new equipment, making its fleet one of the youngest in the industry and giving drivers more uptime with fewer maintenance issues."
"The time of our professional drivers is extremely valuable to us, and we are committed to their success," said Montgomery. "The hardships that our drivers conquer daily deserve to be recognized and rewarded. We will soon remember these trying times as another turning point in our lives. As we plan for a brighter tomorrow, I couldn't be more enthusiastic about our future with more enhancements to driver pay forthcoming."