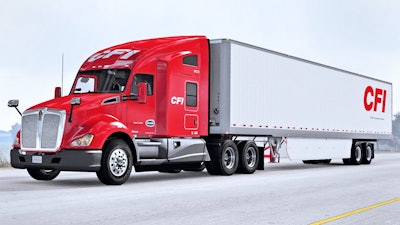 CFI, a subsidiary of TFI International, announced it has reorganized and expanded into five service categories – three asset-based services with Truckload, Dedicated and Temp-Control; and two non-asset services, Mexico and Logistics.
To form the dedicated service, Transport America rebranded and integrated into CFI. This dedicated portion will continue to grow in January 2022 when the former UPS Freight Dedicated division, currently branded TForce Freight Dedicated, also rebrands to CFI.
The Temp-Control service's formation began earlier this year when CFI expanded into refrigerated transportation through TFI International's acquisition of MCT.
One of the two non-asset services, CFI Mexico, is a cross-border service built on partnerships with Mexican carriers for 36 years. CFI Mexico operates an owned LTL network within Mexico and provides in-country truckload transportation through a consortium of nearly 200 C-TPAT certified Mexico carrier partners.
Also non-asset, CFI Logistics is a third-party logistics provider offering full-truckload, less-than-truckload, port services, warehousing, expedited, air freight forwarding, Autogistics (specific services for Tier 1 automotive suppliers and manufacturing plants), as well as other trucking services, including cross-border Canada and Panama service.