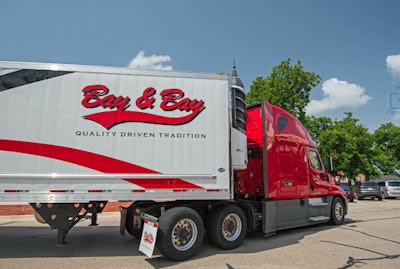 Eagan, Minnesota-based Bay & Bay Transportation announced that starting today, drivers joining the Midwest carrier will start at between 60 and 64 cents per mile base pay per mile plus accessorial pay.
"Driver pay is key in both hiring and retaining drivers," said Michael Blair, director of driver recruitment at Bay & Bay "From the top down here at Bay & Bay, we understand the importance of not only bringing on new drivers, but keeping your drivers that have been with you for years satisfied."
A statement from the company said continuing their commitment to being a top-paying trucking company, Bay & Bay has raised driver pay four times over the last 12 months. In May 2021, they raised driver company pay 5 CPM and in July 2021, Bay & Bay announced what it said was an unprecedented pay increase for independent contractors with a base pay of $1.40 up to $2 on loaded miles and $1.10 on empty miles.
Bay & Bay offers a variety of compensation packages to best accommodate drivers' needs and lifestyles. Qualified drivers are offered flexible pay periods, medical and dental coverage, productivity incentives, and paid holidays, according to the company's statement.
"We are constantly improving the driver experience by offering top tier pay packages and premiere driving jobs across the US. It's imperative that Bay & Bay keeps drivers first and foremost as they drive our business forward," said Seth Reda, vice president and general manager of Bay & Bay.
Company drivers are fitted with new and late model Freightliner Cascadias and Kenworth T680s.
"Late model equipment is key to keeping drivers on the road and putting money in their pockets. A lot of carriers forget this," said Blair.
The pay increases are effective today, according to the company.
Search thousands of trucking jobs to find the job you want.
Find Your Next Job Today