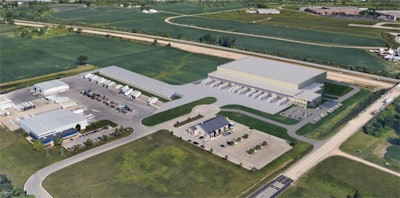 A western Michigan trucking company is expanding.
Art Mulder and Sons Trucking is investing more than $31 million in a 147,00-squarer-foot facility. It will include freezer and cooler warehouse storage, refrigerated and cooler dock space, office space, mechanical rooms, maintenance areas, and training and conference rooms. In addition, the facility will include capacity for food processing and packaging functions.
The company said it will create 55 jobs in the city of Holland. AMST has a fleet of 45 trucks, 145 refrigerated trailers, and 125 full and part-time employees.
Lakeshore Advantage, the economic development agency for Ottawa and Allegan counties, said last week it connected Art Mulder and Sons Trucking with local resources to help it expand its operations at 1870 Transport Lane in Holland.
"The Cold-Link Logistics Holland team is excited to provide logistics solutions to our existing partners and eager to meet future needs in a growing market," said Chad Mulder, president of Art Mulder and Sons Trucking. "We embrace the opportunity to attract new team members who want to be a part of an organization that stands (for) family values. These values drive our commitment and dedication to customer care, which spans from vendors and partners in the supply chain down to every driver coming through our doors."
"Art Mulder and Sons Trucking's growth aligns with the strong regional growth among our food processors and further cements West Michigan as a national leader for food processing," said Jennifer Owens, Lakeshore Advantage president. Lakeshore Advantage is the economic development organization for two counties."We are honored to support Art Mulder and Sons Trucking in their growth. They are a gift to our region."
Holland is located near the shore of Lake Michigan about 30 miles southwest of Grand Rapids.