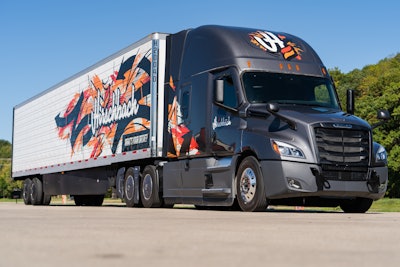 Hirschbach Motor Lines recently announced the launch of a new flex fleet option for drivers looking for a more flexible schedule.
"We've noticed there is a subset of drivers that are looking for opportunities that allow for more flexibility and less commitment," said Jessie Burnette, Chief People Officer at Hirschbach. "Our new Flex Fleet is designed to provide that opportunity."
Hirschbach, a refrigerated/temperature control carrier based in Dubuque, Iowa, is known for its more traditional offerings of over the road and regional/dedicated for solo drivers and teams, along with local opportunities through their yard management division, Spot by Hirschbach.
"This is a different offering for us, but we are excited to diversify our fleet and hopefully, meet a need in the driver market," said Dan Wallace, president of Hirschbach.
RELATED NEWS: Hirschbach expands capacity with purchase of Minnesota carrier
The Flex Fleet will allow a driver to log on to a truck board and reserve a truck for a time period they choose. There is no truck payment or cost to use the truck. The driver is responsible for picking up the truck and then returning it to the same terminal.
"Drivers can reserve a truck, run loads during that time, return the truck and then go to their next job, or enjoy time with their family," added Burnette.
Drivers in the Flex Fleet will be dispatched and there will be a dedicated driver management team for the fleet.
This fleet will offer two opportunities - OTR Flex or Dedicated Flex, with OTR running out of their terminal in Dover, FL and Dedicated running out of their terminal in Monmouth, IL. Both fleets offer mileage pay with minimum daily pay.
RELATED NEWS: Hear how Hirschbach is successfully training the drivers it needs
OTR is 50 cents per mile for all miles (loaded or empty) with a $200 minimum daily pay and Dedicated is 50 cpm for all miles (loaded or empty) with a $225 minimum daily pay. As part-time employees, they will get orientation pay but would not qualify for other employee benefits.
Drivers will be considered part-time employees and will need to go through the hiring and orientation process to become active in the Flex Fleet system. To remain active, drivers need to meet the required minimum run days – 5 days every 2 months for Dedicated and 10 days every 2 months for OTR.
"We think this will be a perfect scenario for drivers that are looking to transition to retirement, are already retired or are working in a seasonal industry but want to keep running without the commitment of hiring on somewhere," said Burnette.
Current Hirschbach drivers can join the Flex Fleet. That would require moving to part-time and moving into slip seating vs. having their own truck. The company said this would be a great option for someone looking to move toward retirement. Hirschbach also has an entertainment division (Xtreme) that works full-time during the touring seasoning. This is an additional option for them in the off-season if they don't want to run dedicated or OTR full time.