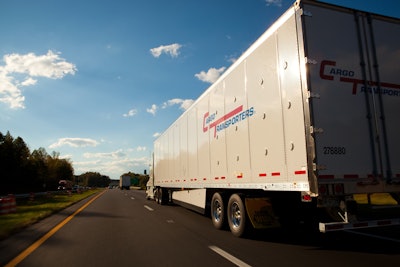 Cargo Transporters announced Tuesday, Feb. 22, the largest driver pay increase in its 40-year history.
The pay increase will touch all over-the-road driers, solo and team. The Claremont, North Carolina company will increase solo driver pay by 6 cents per Rand McNally practical mile on all dispatched miles, increasing starting base pay to 60 cents per mile. Team driver pay will increase 3 cents per mile on all dispatched miles. A solo driver choosing the "All-In" pay option will start at 67 cents per mile.
The increase is effective Feb. 27.
In January, the company increased its paid time off package, and new employees start with the opportunity to earn three weeks of PTO.
"This is the largest, single increase in OTR driver pay the company has made since its start in 1982," said John Pope, chairman. "We ask these drivers to sacrifice time at home with their family, uphold a high level of safety, fuel and maintain equipment, care for freight, and dozens of other tasks. We are proud to offer this level of compensation for those that are the best in class in their profession."
Cargo Transporters is an asset-based truckload dry van carrier with almost 500 trucks.
Search thousands of trucking jobs to find the job you want.
Find Your Next Job Today