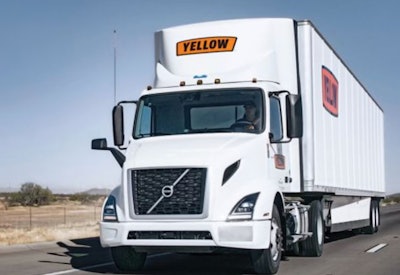 Yellow Corp
One of the trucking industry's leading trade organizations is helping find new employment for workers of a recently closed major carrier.
The American Trucking Associations has created a jobs database that employees of Yellow Corp., which announced its closing over the weekend.
President and CEO Chris Spear issued the following statement and encouraged former Yellow employees to access the database to help them find new employment opportunities within the trucking industry. Spear said:
"Yellow's closure is a substantial blow to America's economy and the company's 30,000 hardworking employees and their families in all 50 states.
"Since its founding nearly a century ago, Yellow has been an integral part of our supply chain. As the nation's first less-than-truckload carrier, it was a key part of trucking history as well. Through the company's involvement with the American Trucking Associations, Yellow employees promoted the industry and were tremendous advocates for highway safety, leading by example.
"The past several days have been especially difficult for drivers, dock workers, mechanics, salespeople, administrative and support personnel, and other employees, many of whom dedicated decades of their careers to the company. Yellow personnel earned a well-deserved reputation as being professional and solution-oriented, helping countless customers to seamlessly navigate the complexity of logistics to ship their products on time virtually anywhere in the country.
"Our message to former Yellow employees is that we want them to remain a part of the industry that they have done so much to build and strengthen. That is why the ATA is launching a new portal to connect former employees with prospective employers who are eager to utilize their unique and in-demand skills and experience. Former Yellow employees can share information at www.trucking.org/JobSeeker. Providing this personal information is completely voluntary and will not be given to employers outside of ATA membership, nor will it be disclosed to third-party vendors.
"We hope that this resource will assist displaced employees by connecting them with new opportunities within the industry and help fill the void left by Yellow's closure."