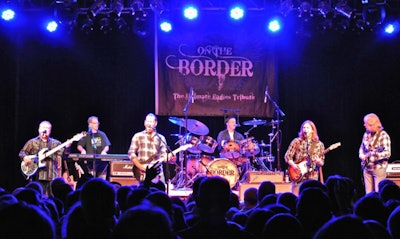 A major East Coast truck show opens later this week, and features free concerts, fireworks, and shows for three different categories of vehicles.
The Kenly 95 East Coast Truckers Jamboree opens Thursday and runs through Saturday at the Kenly 95 truck stop, which is located just off Interstate 95 in Kenly, North Carolina. Kenly is located about 45 miles southeast of Raleigh.
Thursday the show opens at 10 a.m. and the Embers featuring Craig Woodward take the main stage at 7 p.m.
Friday features more music, plus fireworks and the truck light show. The show opens at 10 a.m. and On The Border, an Eagles tribute band, takes to the main stage at 6 p.m. Fireworks will begin at 9 p.m. and the Lights At Night truck light show is from 9:30 p.m. to 10:15 p.m.
Saturday features the Heaven's Saints motorcycle show and Show and Shine car show at 10 a.m. Closing ceremonies are at 3 p.m. and include awards presentations for the car, motorcycle, and truck shows.
The jamboree includes a variety of family activities and food.
There is no admission fee for the show.
Show organizers address COVID-19 related concerns with this post to the Kenly 95 website: "Your health and well-being are very important to us. Kenly 95 Petro is working with local health officials to ensure that the East Coast Truckers Jamboree is a safe event for all. The truckstop maintains stringent cleaning and health standards throughout will adhere to all recommended protocols to ensure everyone's safety. We appreciate everyone's patience and cooperation in following the on-site guidelines that will allow us to host a fun and safe event."