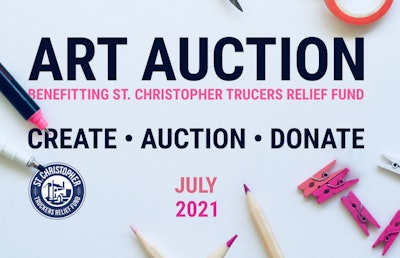 Talented truckers or their families and friends can help support an organization aimed at helping drivers in need.
Next month the St. Christopher Truckers Relief Fund holds an art auction to raise money to help truckers who have fallen on hard times through illness or an accident. The organization is soliciting donations of handmade items -- paintings, drawings, sculptures, woodwork, fabrics, jewelry, afghans, quilts -- that will be auctioned off online.
Artists and craftspersons can register their works online. Following the auction, the artist will then ship the work to the winning bidder.
Artists can register their artwork and submit a photo online.
Since its start, the SCF has spent $3.5 million helping 3,204 drivers. The money goes directly to the bill holders – not to the drivers.
SCF assists drivers who travel 500-plus miles a day. Assistance may be in the form of direct payment to providers for household living expenses, insurance, prescription drugs and various medical procedures. The SCF also provides drivers and families with information on how to negotiate price reductions with medical providers and hospitals.
The fund just raised $75,000 with its streamed concert Highway to Hope.