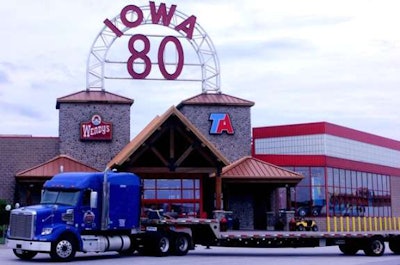 After going online as much of life did in 2020, the Walcott Truckers Jamboree is back this week as an in-person event with all of the features that have made it a "must do" event for drivers and fans of all things trucking.
Staged Thursday, Friday and Saturday, July 8-10, at the Iowa 80 Truck Stop on Interstate 80, this year's jamboree will be the 42nd. Free and open to the public, the jamboree includes:
The Super Truck Beauty Contest. Entrants can register in advance or at the jamboree. Judging is Thursday and the awards presentation is Saturday at 3 p.m. And, there will be numerous vintage trucks on display as well.
Trucker Olympics. Held each day, these Olympics include fun, trucker-themed skills tests open to all CDL holders.
Fireworks. The jamboree concludes Thursday and Friday nights with a display of fireworks.
100th Birthday Party. The Iowa 80 Trucking Museum will celebrate the centennial of its 1921 International.
Plenty of music. Casey Muessigmann takes the jamboree's main stage Thursday while Lonestar performs Friday.
Trucker's Best Friend Contest. Held Thursday, the contest includes Best Dressed, Best Trick and Owner Look-A-Like categories.
Food, exhibits, and kids' games. The jamboree is meant to be a full day's worth of activities for the entire family.
"The Walcott Truckers Jamboree is a celebration of the professional driver," said Heather DeBaillie, I-90's vice president of marketing."The pandemic made it very clear who we rely on every day and, no surprise to us, truckers were at the top of the list. We appreciate the professional driver and the important job they do. They are the reason we have hosted this event for decades."