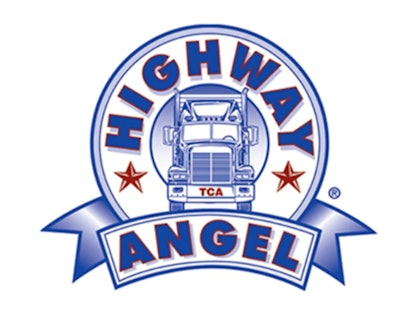 A trucker who stopped to help a father and son whose SUV had flipped four times and slammed into a concrete barrier has been recognized by a national trucking organization.
The Truckload Carriers Association recently named Devey South, from Carrollton, Georgia, a Highway Angel for stopping at the sense of an accident in Pennsylvania. South drives for JLE Industries.
TCA recounts the details:
On June 9, South was westbound on Interstate 78 near Saucon, Pennsylvania. It was mid-afternoon and traffic was quite heavy. He was in the righthand lane when a car and SUV came up on his left.

"The car started to fishtail, swerved, and then side-swiped the SUV," said South. "It caused the SUV to spin and then flip four times across the highway." The SUV landed on the driver's side and slammed against the concrete barrier. South applied his brakes and pulled over. He then jumped out and ran across three to four lanes of traffic.

"The back window was busted out," he said. "I stuck my head in, but there was smoke or dust and I couldn't see anything." But then he saw a boy, about 12 years old, lift his head up. "He was cut and had blood all over his arms." South told the boy to hang on. He then climbed on top of the SUV. "The driver's door was smashed in," he said. "It took me about 10 minutes to pry the door open." The driver, the boy's father, was conscious and still in his seat belt. "He was crying and in pain, but didn't speak English." South was able to pull the boy out first. He then used his Swiss Army knife to cut the driver's seat belt. At the time, South says he didn't know if he was dealing with smoke or dust from the airbags so he and another motorist who had stopped made the decision to pull the driver out and get him on the ground.

As they waited for first responders, the driver of the other vehicle got out. "She was on her cell phone and looked like she was fine," said South. "She kept saying she was sorry." However, South wasn't able to find out what had happened. He waited with the injured driver and his son until first responders arrived a short time later and took over.

South said that although he's been driving for 20 years this is the first time he's been this close to being involved in an accident. "I try to keep my eyes on everything and I was able to slow down enough not to be involved," he added. "I'm glad I was there to help someone."
For his willingness to assist, TCA has presented him with a certificate, patch, lapel pin, and truck decals. His employer has also received a certificate acknowledging their driver as a Highway Angel.
Since the program's inception in August 1997, nearly 1,300 professional truck drivers have been recognized as Highway Angels for the exemplary kindness, courtesy, and courage they have displayed while on the job.
The program's Presenting Sponsor is EpicVue, and Supporting Sponsor is DriverFacts.