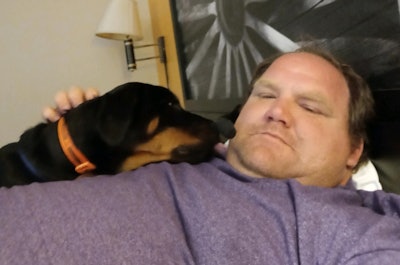 A driver from Texas who was walking his dog when he went to the aid of an accident victim has been honored for his actions.
The Truckload Carriers Association recently named Timothy Sikes, from Melvin, Texas, a Highway Angel for helping a man who lost control of his vehicle and rolled into a ditch.
TCA explains:
Sikes was at a truck stop near Baytown, Texas early one morning in April. He had just finished doing his pre-trip inspection and was taking his dog, Diesel, for a walk when he heard the sound of screeching tires. "I looked around and saw a car going off the road," he said. "It went into the ditch and rolled."

He called 911 and rushed over to check on the driver, a man in his 80s. He was trapped in his car. "He told me he had fallen asleep at the wheel," said Sikes. Although Sikes wasn't able to open the door of the damaged vehicle, he talked with the driver to keep him calm until first responders arrived just a few minutes later. The driver appeared to have minor injuries.
Sikes now drives for Bay & Bay in Eagan, Minnesota.
For his willingness to assist, TCA has presented him with a certificate, patch, lapel pin, and truck decals. Both his previous and current employer have received a letter acknowledging their driver as a Highway Angel.
Since the program's inception in August 1997, nearly 1,300 professional truck drivers have been recognized as Highway Angels for the exemplary kindness, courtesy, and courage they have displayed while on the job.
Special thanks to the program's Presenting Sponsor, EpicVue, and Supporting Sponsor, DriverFacts.