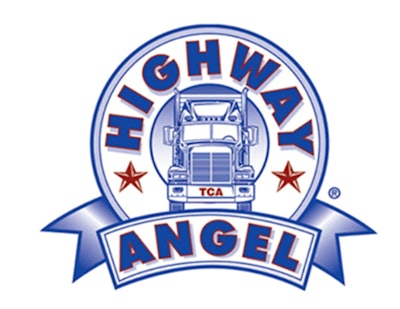 A Texas trucker has been honored for his efforts to assist a woman who had been dumped alongside a highway in Montana.
The Truckload Carriers Association has named Ray Dooley from Weatherford, Texas, a Highway Angel for stopping to help a woman who had been abandoned in a remote area in the middle of the night.
TCA explains:
Ray Dooley from Weatherford, TexasIt was just after midnight and Dooley was eastbound on Interstate 90 about 25 miles out of Billings, Montana. "It was a pitch dark night out there, no moon," he said. "There was no one else out there and I had my brights on." Then he noticed something on the side of the road in the tall grass. "I thought it was an animal, but then I saw a person's hands and arms waving. I didn't know if they were injured, male or female, but I knew they needed help." However, as a former police officer, Dooley was also highly aware it could be a setup. He had heard stories about it happening especially out on remote roads at night.

It took Dooley about a half-mile to come to a complete stop. He called the Big Horn County Sheriff's Department. "I told them what I saw, gave the mile marker, and asked if a patrol unit could be dispatched to the location." The dispatcher said she would stay on the phone with him. After turning on his four-ways, setting his battery-operated flares behind the truck, and grabbing his flashlight he started walking down the road. "I saw a woman limping and staggering toward me," he said. "When I met up with her, she told me she was from the Crow Indian Nation about 35 miles to the east. I asked if she was hurt and she said yes, but didn't need an ambulance." The woman told him she had been with someone, but they had pulled over and pushed her out of the car, and left her on the side of the highway.

"It was only about 40 degrees out and she was in a t-shirt and pants," Dooley said. He told her he was a former police officer and an EMT out of Texas and would keep her safe. The woman thanked him for stopping and said her father was a police officer with the Crow Tribe and she wished he could meet Dooley because he was so nice to her. He offered her a Pop-Tart and some water and stayed with the young woman until a sheriff's deputy arrived about 30 minutes later.
For his willingness to assist, TCA has presented him with a certificate, patch, lapel pin, and truck decals. His employer has also received a certificate acknowledging their driver as a Highway Angel.
Since the program's inception in August 1997, nearly 1,300 professional truck drivers have been recognized as Highway Angels for the exemplary kindness, courtesy, and courage they have displayed while on the job.
Special thanks to the program's Presenting Sponsor, EpicVue, and Supporting Sponsor, DriverFacts.