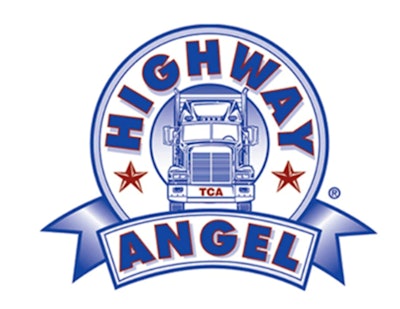 An ABF Freight driver from New Mexico has been recognized for coming to the aid of a fellow trucker involved in a rollover accident in Texas.
The Truckload Carriers Association recently named Alfonso Archuleta, from Albuquerque, New Mexico, a Highway Angel for stopping to aid a FedEx driver whose double trailers overturned into a ditch.
TCA explains:
Early one morning in August, Archuleta was traveling on Highway 54 near Stratford, Texas. The sun was coming up, making things a bit hazy as it had just rained. Suddenly, he saw a truck up ahead, laid over on its side, in the ditch. It was a FedEx truck pulling a set of doubles that had passed him a bit earlier.

Alfonso ArchuletaArchuleta immediately pulled over and grabbed a pair of rubber gloves. "You never know what you're going to find," he said. He ran to check on the driver. "I asked him if he had any broken bones and he said no." At about the same time, an off-duty volunteer firefighter pulled up and helped Archuleta get the driver out of the truck. "The driver was really upset," he recalled. "He said he had just gotten over COVID and this was his first day back. He didn't know what had happened and must have blacked out."

Archuleta went to look at the back of the trailer to see if there were any hazmat placards. "He had corrosive on," he said. "We got the paperwork out to give to the fire department when they arrived and saw that he was hauling batteries."

Thankfully, the driver seemed to be okay. "He was just really upset that he turned the truck over," shared Archuleta. He tried to calm the driver. "I told him that as long as he was okay, not to worry about the truck." At that point, the volunteer firefighter said he would stay with the driver until first responders arrived so that Archuleta could get back on his route.

Archuleta said his father also drove a truck for a living. "As a little kid, I would do walk arounds with him to check the tires and inspect the vehicle," he recalled. "My dad was always a safe driver. I always stress to young drivers how it important it is to make sure you're as safe as you can be. It's important to share your knowledge. You learn it and you pass it along. Taking a little bit of time could save a life."
TCA has presented him with a certificate, patch, lapel pin, and truck decals. His employer has also received a letter acknowledging Archuleta as a Highway Angel.
Since the program's inception in August 1997, nearly 1,300 professional truck drivers have been recognized as Highway Angels for the exemplary kindness, courtesy, and courage they have displayed while on the job.
The program's Presenting Sponsor is EpicVue, and the Supporting Sponsor is DriverFacts.