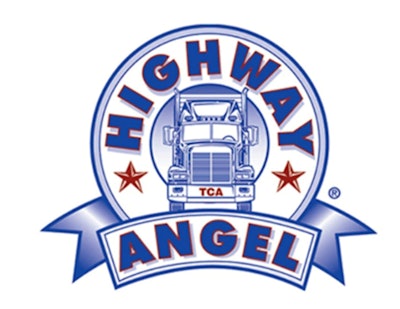 A New Jersey driver for Carbon Express has been recognized for her actions at the scene of an accident earlier this year.
The Truckload Carriers Association has named Melissa Bencivengo, from Lake Hopatcong, New Jersey a Highway Angel for stopping at the scene of a three-vehicle accident after she witnessed a driver lose control.
TCA explains:
It was rush hour on Sept. 7 as Bencivengo drove along I-280 near Newark, New Jersey. She had just dropped off a trailer, and although traffic was heavy, Bencivengo watched as a car in front of her sped up and began moving sporadically. "It looked like she was trying to weave in and out of the traffic ahead of her," said Bencivengo. "She cut to the right and rear-ended a Jeep which spun her into the left lane. Then she bounced off another car, hit the Jeep again, careened out of control, crashed into a concrete barrier on the right side, did a 180, and ended up blocking both lanes."

Melissa BencivengoBencivengo positioned her cab at a 45-degree angle to block both lanes of traffic behind her. She put on her four ways, grabbed her emergency kit, and ran to assist the driver of the first vehicle. "The airbags had deployed and the car was filled with smoke and dust," Bencivengo said "There were two other bystanders who helped me get her out of the car. She said she had just come from the doctor's office and her blood pressure was high. She didn't know what had happened." The woman was able to stand and walk. Another motorist stayed with her while Bencivengo checked on the other drivers. The driver of the Jeep and his son had minor injuries. The driver of the third vehicle wasn't hurt.

By now, traffic was backing up for miles. The road had concrete barriers on each side and there was no way for emergency vehicles to get to the scene. "We had to open up the lane," said Bencivengo. The car was inoperable and, unfortunately, her tow strap was broken. "Someone suggested bouncing the car to move it," she shared. Bencivengo recruited three other truck drivers and three bystanders to assist in bouncing the vehicle on its own suspension and eventually, they were able to move it out of the way. Bencivengo then repositioned her truck, leaving enough room in front of her for emergency vehicles and a tow truck to pull in. Then she began directing traffic until police officers arrived. The tow truck driver and EMTs who arrived on the scene thanked Bencivengo for making the scene safe for them to get in and do their jobs.

Bencivengo trained to be a Junior Firefighter when she was just 15 years old and learned how to secure a scene and assess it. She is also a certified nurse's aide which helped her in assessing the condition of those involved in the accident. "Bystanders and truck drivers are the true first responders," she said. "Three-quarters of the time, it's a truck that will stop. My company has always said, 'You will be a first responder. There will always be things that happen out on the road and we expect you to stop and make sure everyone is okay.'" Our company motto is 'Survive the drive and get home alive and it's not just for us, it's for everyone on the road. We all have families we want to get home to. There were angels there that helped things end in a positive way that day," said Bencivengo. "It was a blessing."
For her willingness to assist, TCA presented her with a certificate, patch, lapel pin, and truck decals. Her employer has received a letter acknowledging their driver as a Highway Angel.
Since the program's inception in August 1997, nearly 1,300 professional truck drivers have been recognized as Highway Angels for the exemplary kindness, courtesy, and courage they have displayed while on the job.