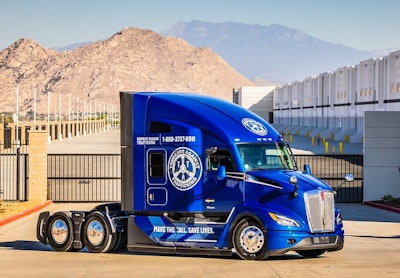 Vancouver, Washington-based Freestyle Transport bought the "Everyday Heroes" Kenworth T680 for $260,000.
The rig was auctioned recently by Ritchie Bros. in Perris, California.The proceeds from the sale go to support Truckers Against Trafficking, a non-profit organization dedicated to stopping human trafficking by educating, mobilizing and empowering truck drivers and rest stop employees.
In addition to the proceeds raised by the sale of the Kenworth T680 Next Gen, TAT received $68,000 in additional donations from industry suppliers and trucking companies.
"Truckers Against Trafficking is an incredible organization that is utilizing our industry to help victims of human trafficking," said Freesyle Transport CEO Serg Kodryanu. "After I learned the numbers of how many victims have been affected by human traffickers, I immediately felt it in my heart to make it our company's mission to support such a great and noble cause as TAT and its mission to stop this terrible crime."
Freestyle Transport specializes in delivering refrigerated and dry van freight throughout the lower 48 states. According to Edward Little, who is TAT trained and Freestyle Transport's president, the company is in the process of getting all its executives, staff, drivers, and volunteers TAT trained.
According to Kendis Paris, TAT's executive director, the $328,000 TAT received between the Everyday Heroes truck sale and additional donations surpassed the 2019 Everyday Heroes donation of $162,000. It's the largest one-time gift in the organization's history. The funds will help TAT expand its work within the trucking industry and further partnerships with law enforcement.
The "Everyday Heroes" truck is fully loaded with a 76-inch sleeper and features the Paccar Powertrain with a Paccar MX-13 510-hp engine, Paccar TX-12 automated transmission, and Paccar DX-40 tandem rear axles.
Freesyle Transport's new T680 will join its fleet of 47 trucks and will make runs to and from Washington state and Florida to generate more exposure to the specially decaled TAT truck throughout the country.