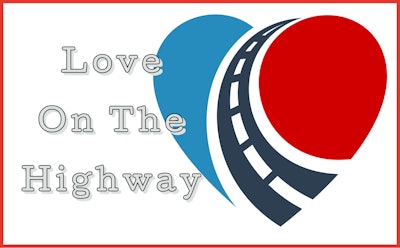 Happy Valentine's Day truckers!
For many, this is a day of flowers, heart-shaped boxes of chocolates, and a nice dinner. And romance.
For others, Valentine's Day is another day on the road because they are a couple who happen to also be team drivers. They live and work together and have found that Love On The Highway works for them.
We asked these hard-working couples to tell us what it takes to not just be successful on the road, but do it while also being successful in their relationships. To no great surprise, we heard from a lot of folks who love each other and also love their lives as professional drivers.
Enjoy their stories and enjoy Valentine's Day if you're home or on the road.
Erika and Gregory Permenter Jr.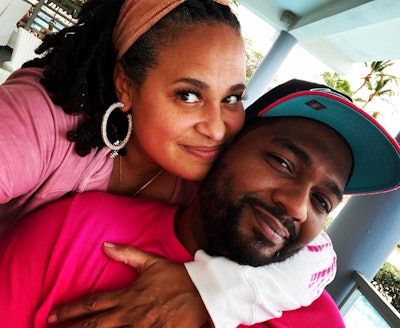 We began our trucking journey attending CDL school together and working as company drivers for 2 of the industry's largest carriers. After achieving our goal of obtaining the necessary driving experience and visiting all 48 continental states, we decided to turn our dreams of entrepreneurship into reality and start our own trucking company. We love being on the road together! We make it work by laughing and enjoying what we do. We cook together, set personal and professional goals, and hold each other accountable. A plus to being on the road is that we get to see the beautiful United States, have time to think, educate ourselves listening to audiobooks and podcasts, and gain clarity. Some of the minuses include not having immediate access to facilities (showers, restrooms), lack of movement, and lack of healthy food options.
Catrina and Bobby Capps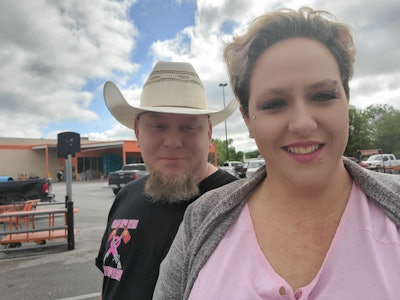 Me and Bobby dated in high school back in 1998 his family moved away. We found each other many years later. Bobby had been driving a truck for years at that point I joined him in 2016 the money was just better for both of us to work. With 5 children at home, we needed all the money we could get. They are living with my mother at home. This was just the best way to get the money we needed to take care of them and collages, cars bills, and more. Their ages are 21, 20, 17, 17, 15. We have great children and they are very understanding and grateful for all that we do for them. Yes, we do miss out on a lot of stuff which is super not easy on any of us. But we do our best to get home when there is something special going on. As for us being on the road, it is not easy we have our ups and downs as anyone would being stuck in a small area together 24-7 and only going home every 2 to 3 months. But we work through it together as it should be. I drive nights 9 p.m. to 9 a.m. He drivers days 9 a.m. to 9 p.m. When I finish my shift at 9 a.m. I get paperwork cleaning and cook breakfast and start dinner while watching TV or chatting with him. I only have 3 to 4 hours to get all this done before I have to get to sleep. Sometimes it is easier to just grab food and go but that's not to easy when a lot of places closed due to no staff due to covid or way too busy and not enough time so it's just easier to cook. Then we swap at night at 9 p.m. and he will watch TV chat with me on play a game with friends online. That is six days a week we get one full day off in the truck a week which we will watch movies together and chat cook a really good meal or go out to eat. That's pretty much all we can do. We do our best to stay happy which is hard with this job and roads and the way people treat us drivers. But we do our best to make it as good as we can.
Beryl Paffreath and Kathy Borell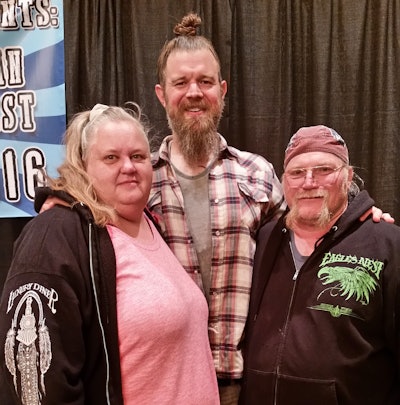 I went to C.R. England Trucking school in 1995 so I could prove I knew how to drive trucks. I met Kathy there. I came from eastern Tennessee. She's from Colorado. We became friends. Teamed up, and a year later got married. Just like when at home. You have ups and downs. But the trick to success isn't a trick at all. Openness and talking things out and being honest with each other is what works. Now we also have a small farm in Missouri. This is our retirement plan. We're still working on that part! Lol !!
Nathan Dockery and Sach Clark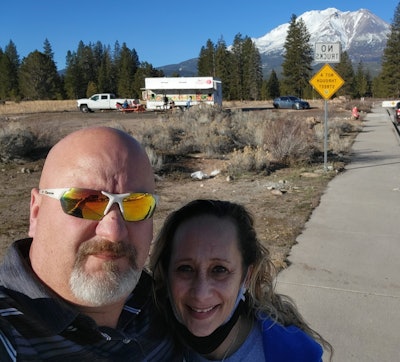 I drive and she helps in any way she can to make my life easier and we generally just enjoy each other's company and getting to travel the country and see all the sights. We love it.
Jasmyne and Thomas Bertram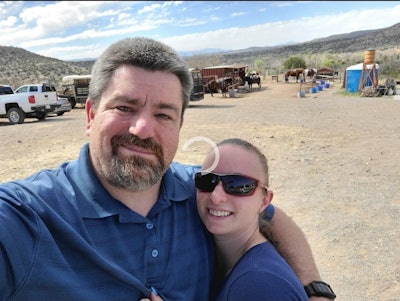 We got started because my father gave us the opportunity, but we had discussed it before and wanted to. How we make it work is COMMUNICATION. We talk constantly about anything bothering us and try to find solutions instead of waiting for it to get to a "breaking point". We also try to eat our meals together to catch up with us and anything else. Pros - -We are making a living together and we are not away from each other. We get paid to travel, as we both have wanted to do. Cons - -Tight quarters, very little space. (Though it doesn't seem to be terribly difficult for us) Being a team drive, we are on separate schedules so there is very little "us time".
Anita and Robert Sumerix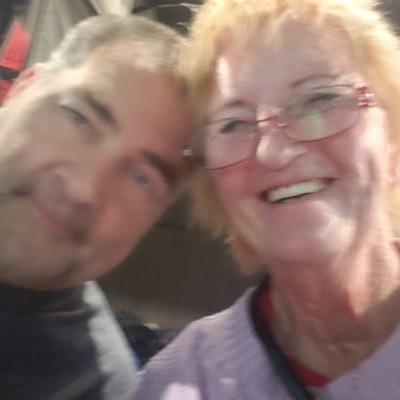 It's a win-win situation. Teamwork on everything, bills, truck, food, laundry, two puppies. We've been teaming for many years now. Rob has 30 years of driving & I have 20 years. Especially when the weather is bad out with snow or ice, we keep each other's nerves cool. Valentines is every day of the year. 💘
Jamie and Micha Morgan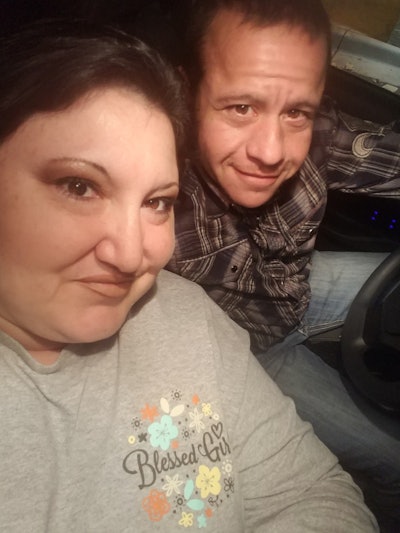 I've driven with my fiance Micah for 2 years now. He has been driving for 15 years. I have always wanted to learn how to drive a semi but was afraid if I could do it or not. Micah knew I wanted to, so finally, out of the blue one day said "Okay, let's do this ". He took me under his wing and taught me safety first no matter what. He pointed out little things that only senior drivers know cause they have been doing this for years. I would ask him the same question many times, and he was patient with me. He also didn't baby me. He wanted to make sure I understand if I mess around don't do my pre-trips, use a phone while driving, or anything where I didn't utilize my common sense, there would be a chance someone around us may never see their family again. Us included! The plus to driving together is 2 heads are better than 1! 4 eyes are better than 2! We get to enjoy each other's company, and we have helped each other in stressful situations. The minuses are life as a truck driver no matter how much you love it is stressful at times. Unfortunately, it's a small area so if you need space cause you're feeling stressed. Just keep your mouth shut, close the curtain and take a nap. We team drive so we don't have a lot of downtime at all. So we don't always get to snuggle up together as we often want. His kisses and smiles are the best so it's worth it. We look after each other when we are sick too cause if 1 gets sick, you both are! Oh, the best part is you save on shower credits and shower together ❤
Violette Cassill and Charles Coleman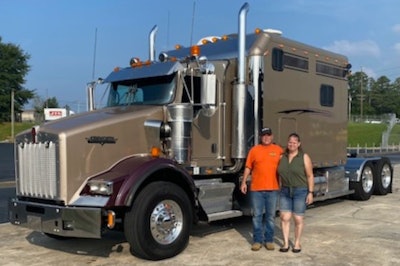 My name is Vi and my fiance is Lee. We met online almost 7 years ago. We met for a date he shared he was an over-the-road driver. I shared how much fun that sounded like.I have been in the passenger seat ever since. We make it work he does the driving, I do the paperwork and booking loads. But we both strap down our freight. We have lived in a truck since the day we met. When he wants to strangle other motorists I am the voice of reason.
Trouble Davis and K.C. Croner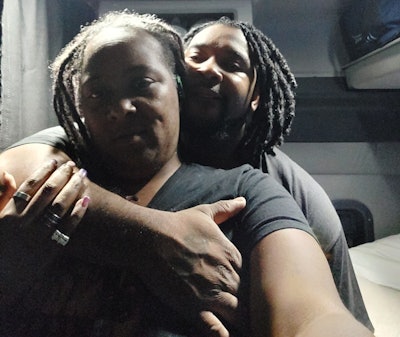 We met at a truck stop. We work for two different companies and two different types of freight. I like it because when we met up at truck stops we get our quality time in. But I really think what keeps our relationship going is the fact that it takes a trucker to understand a trucker.
Jeanann Duve and Christopher Falgout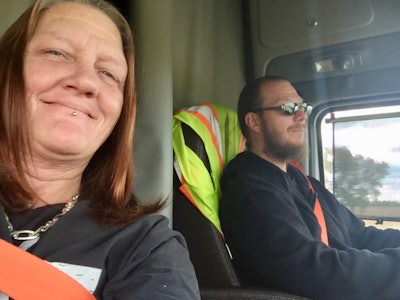 Plus: the love of my life at my side while we build this life together each putting in 110 % and stopping occasionally to see a beautiful sunset, to walk and hold hands to have that long embrace, to pray, and thank God for this awesome adventurous path and blessings in my life with her and my faith that is a potters wheel.Minus: sometimes nitpicking at each other cause ya' just wanna have silence and be alone. Always bumping into one another in the small space. Can't ever get a surprise gift for her. She always knows lol. The story we would have to offer is honesty and how we make it work and don't hate each other.
Plus:No worries about your partner [they're right next to you] Plus: Get to see some of the most romantic sunsets together. Plus: Quality 34 hour resets in different locations to be relaxing and fun-filled Plus: Equal home time spent for special occasions with each other's families Plus: The fact that both are building a future together by doing their part for each other. Minus: The bickering from being together constantly without very many breaks cause even at shift changes you still have your partner right there, Minus: Physical companionship in the conventional sense has to be modified to the job.
Priscila Correa and Juliana Pinho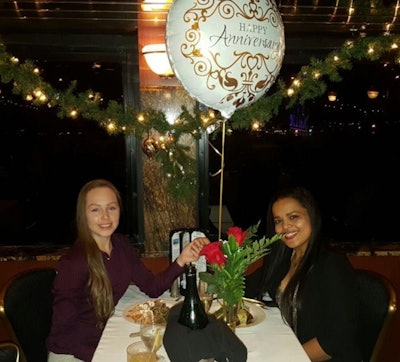 Getting into trucking 6 years ago, now is clear that it was our fate. Literally paying to go to work in the restaurant industry, doing Uber on the side, my last passenger before our car broke down was a trucker and planted a little seed. He didn't even tell me his name, but that day changed our lives. We had nothing to lose so we sold our broken-down car to pay for CDL school. Our first recruiter told us it was a bad idea to drive as a team with your spouse because it's tough on the relationship and most end up in divorce. But again, it was our only option. Turns out she was wrong. Although it is a give and take, and you do have to control a few emotions here and there to make it work. But overall the pros definitely outweigh the cons. We wake up in a different scenery every day, try new cuisine, discover new places. It's like we are on a never-ending adventure/vacation together. It's never boring that's for sure. The more you know & understand about your partner, the better you can be as a partner to them. And that takes time, of which we have 24 hrs/day. Together we are stronger personally and financially. We are so blessed.
Katybeth and Shawn Clark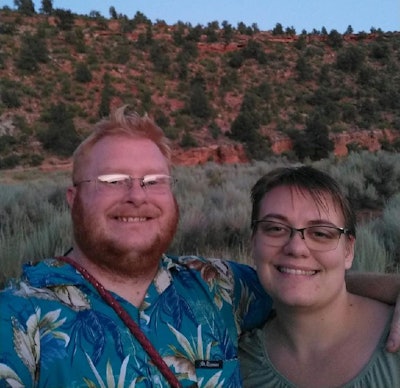 I started driving about 5 years ago while my husband stayed home working as a heavy equipment field mechanic. After about 8 months Shawn noticed I was bringing home bigger checks and he was still in muddy fields breaking his back. The worst part was it was hard only seeing each other for a three-day weekend every 3 weeks. So he got on the truck and after a while we got into a rhythm that works for us. I drive nights he drives days. I don't always sleep the best so I have a couple of hours during the day while he is driving we sometimes hang out. The minuses are sometimes it's hard to sleep in a moving truck (stop and go are the worse). Bathroom breaks are sometimes hard when you wake up and the next bathroom is 20+ miles away. Also, space for two can get a bit cramped. The pluses are we are always near each other. Also, the pay is nice as a team. Never a dull moment we have the freedom to set our own schedule as long as the load is on time. And the best part is always having someone to help.
Jason and Lynda Knight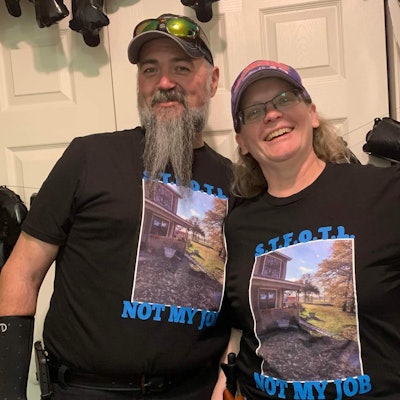 We both needed a change of career and we enjoy spending time together so it made sense to become team drivers together. We have seen some beautiful scenery together and still enjoy our time on the road.
Veronica Williams and Sherman Anderson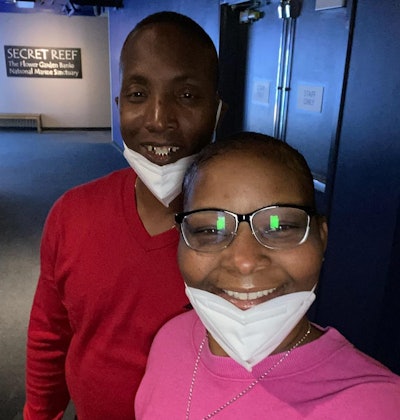 Veronica and I started out with me putting out an ad looking for a helper for a dedicated run I was doing with family dollar/ dollar tree. She accepted my offer, after a week of being together on the road we became a little more involved personally, which made things a bit awkward since she was initially my employee. Speeding up to date, were still together soon to be married. Veronica has also become a professional driver during this time span. She and I team drive and things are cool. It does have its moments though.
Rhonda and Frank Cantrell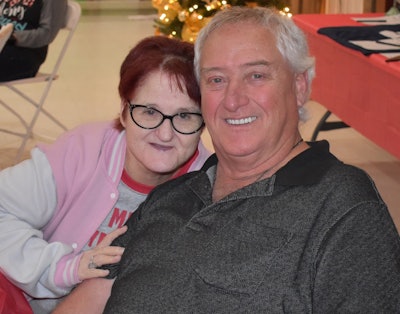 My wife wanted to change her career from nursing to truck driving, So she took the classes and drove with me. We enjoy being together. We laugh and work together which works for me. Pluses are she is with me, she is a great driver and she is my partner. Minuses she hates driving in snow and other men drivers don't like women drivers out there. We just love being together and sharing life and the road together.
Melisa and Ron Heerdt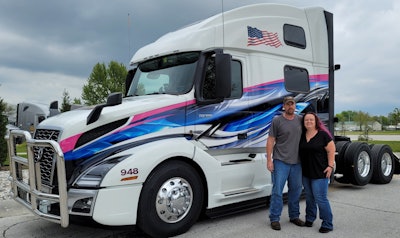 Ron was made to be a trucker. His dad was a truck driver. He would come home and his dad's truck was his babysitter. When he was 5, he gathered all the boxes in the house he could find and made himself a truck in the living room. I (Melissa) had a long career in healthcare, and after multiple injuries, I was no longer able to physically work in healthcare anymore. A few more life changes happened (moving out of state, becoming empty nesters) in a short time. It made me think about what my "2nd act" should be. Many people suggested that I go over the road with Ron. I would laugh and say that's the last thing I want to do. After no other options made sense, I decided, "What the heck, I'll try it." I enrolled in truck driving school and I passed. My husband did the hard part of the on-the-job training. That challenged our relationship because he was now "telling me what to do and how to do it." Being a submissive wife is not my strength :) He just wanted me to not make the same mistakes he made. He was the best teacher I could have asked for. He was patient, knew how to approach me, and encouraged me when I needed it. We now own our own truck and work for a great company that contracts with the military. We are big rednecks, so hauling things that go boom seems awesome to us. Things we do on the road to keep our relationship strong. We go on adventures and explore new places (who doesn't love free travel?) We have a bucket list of places we want to see and things we want to do. We get hotel rooms frequently to spread out and stretch. We have a large extended family. We get to see them more than if we had a 9-5. Video chat is the best thing for truck drivers. Being away from my family was a big adjustment for me. We stay connected with video chat and lots of phone calls. We sold our home since we were never home. Now we can afford to have more elaborate vacations and bring friends and family with us. That gives us something to look forward to. Ron says he should have had me on the truck a long time ago. I do things he doesn't like to do (administrative, paperwork, taxes, phone calls, computer work) and he does stuff I don't care for (truck maintenance, fueling in the cold, backing into difficult spaces). His strengths are my weaknesses, and vice versa. We are enjoying this season of our lives and look forward to what the future holds.
Angie and Steven Drake
My wife Angie and I left our past careers to go to trucking school and begin our new careers as truck drivers in 2013. I was an IT manager and she was an open heart recovery nurse. We have been driving team ever since and love it. We paid off our 2018 Freightliner in January 2021 and went through the process of getting our own DOT authority. We love it even more now. We have been through tough times but came through them and made it work, in September 2019 I had a heart attack while behind the wheel. Angie's experience helped save my life and after open heart surgery and a 4-month recovery, we got back to team driving. For the last 2 1/2 months of my recovery, Angie drove solo and I rode as a passenger to keep from losing our truck. It has been quite a journey but we both say it has been the greatest adventure of our lives. We love working as a team and neither of us would want to be on the road without the other.
Kym and Albert Hemerson
When we first met Al was an OTR driver. We married and for the first 5 years, we only spent one year together. Now we have been married for 38 years with the last 17 years together in the truck.
Amanda and Brian Ernsten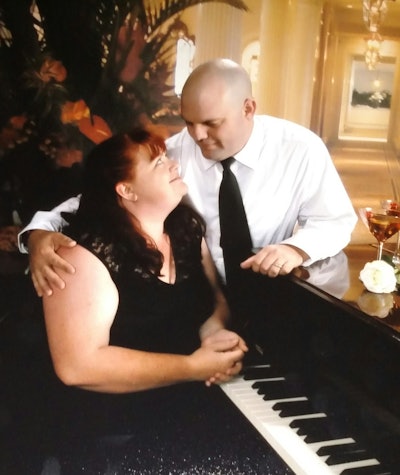 Amanda and I started driving together 18+ yrs ago. With CR England. We were dating at the time and she decided to go through their training program. I was already a driver there. We got married in Vegas while she was still on her trainer's truck. We said our I do's and she jumped in a different truck and went on her way. We have been trucking together ever since. There are no minuses at least for us. We don't fight, we have no secrets, we know our money situation 100% of the time. All of the things most couples fight about we don't have to deal with. The thing we hear most from people is "How can you be together 24-7?" It's easy we are best friends. Honestly, there is no place I'd rather be. Even when we aren't on the truck we are together. Love grows the strongest in small houses.
Martha and Tim Barnes
We've been truckin' for 21 years. She rode with me for a couple of trips and then she got her CDL. We make it work every day cause that is what we are supposed to do. Everything is a plus she is my wife, partner in crime, and the best thing that's happened to me. She is the prettiest seat cover I have ever seen and the heart and soul of our team. Each of us has weaknesses and strengths, so in that respect, we work together sharing the responsibilities of our job. We always encourage regardless of the situation (always discuss) but whoever is in the driver's seat always has the final decision. The main objective is to always stay safe, be mindful of the public, and do the job at hand!
Michaeline Acker and Gary Green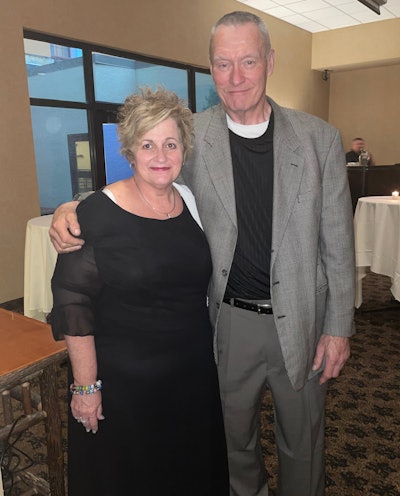 We met on match.com, he was on his way home from California. We talked that night for 5 hours! Needless to say, he stopped to meet me in my hometown. I was in nursing school and had been a hairdresser for 30 years. So after our first meeting, we got along very well. So one time when he had stopped to visit me, we were driving past the truck driving school and he said let's stop in there. I was like why? He had me signed up before we left! I had never driven a stick shift and hated passing semis on the road! But low and behold, I did it! When I had finished school, worked at the hospital for about 1.5 years, doing what I loved, he convinced me to join him on the road, and well, the rest is history! Of course, this is the very shortened version of our story!
Donna and Clinton Hurst
We met when we were solo drivers. He would bring my loaded trailer to me and pick up my empty trailer. We had long conversations and we fell in love. We decided to drive team and here we are killing it. LOL. Our pluses are we get to spend all of our time together and the minuses are we don't get to spend a lot of time checking out the places we drive to in our truck.
Lea and Eugene White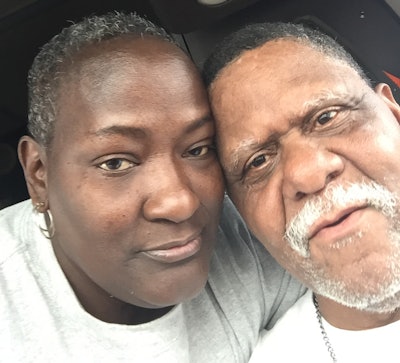 We've been a team for 20 years. I began driving because I was infatuated with Rudy (nickname). At first, it was very volatile but soon we found a happy medium. Rudy fuels, loads, goes into shipping offices. I cook, do paperwork, routing We've learned to ignore each other when we get on each other's nerves but we always know we have each other's back.
Teresa and Eldon Scott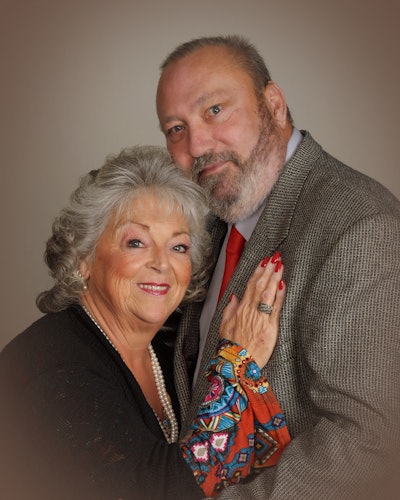 Teresa dragged us both to truck driving school in 1994, we graduated together in January 1995. Being totally in love is a great start, understanding, patience and getting a system working together helps. The pluses are the great places we get to and discover together, just sharing every day with each other. Starting out we did argue quite a bit just learning to work together and being around each other 24/7 can make you grumpy. This job will make or break a marriage and we think we have made ours very special. We have been married for 34 years now and we tell each other every day I Love You.
Suzan and George Strus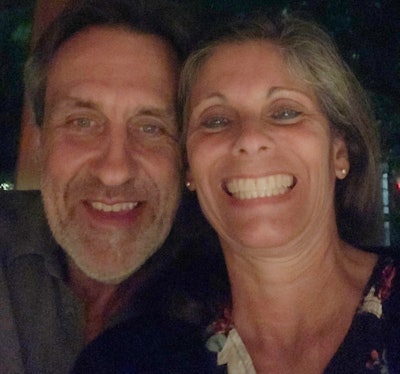 Both of us will be retiring in about a year from our first careers as U.S. Postal Service workers (we're both in our mid 50s) and are looking forward to drive as owner-operators.
Terri Long and James Grizzle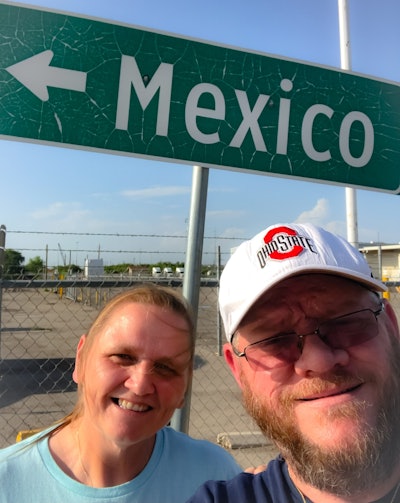 When I got with James he had already been a trucker for 15 years. I hated him leaving so I got my CDL and started driving with him. We make it work by giving each other alone time. He sleeps while I drive during the day and I sleep while he drives at night. We both enjoy our "me" time while driving. We do spend a couple hours or so with each other after switching drivers. The pluses about being together on the truck are that we get to experience all the adventures together, we teach each other, learn from each other, and share the excitement of where we will be going next. The minuses about being together on the truck are that we don't always see eye to eye and yes we have the occasional argument but there is always the bunk area to retreat to if there is tension or irritation amongst us both. All in all, I wouldn't change it for the world! I love being on the truck with James and I absolutely appreciate our company, TriState Motor Transit Co, for allowing us to enjoy being truckers together.
Serena and William Henderson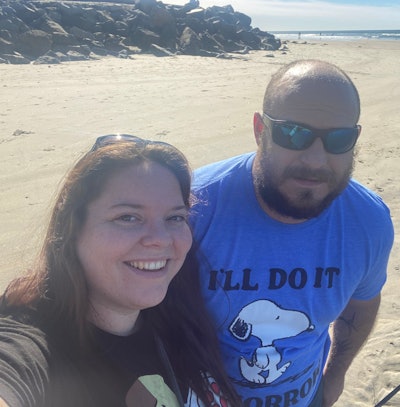 We enjoy driving together. I was willing to go over the road as a truck driver if my husband was able to train me so I didn't have to train and live in the truck with a stranger and we found an over-the-road company that let us do that. It has only been a year and a half and we have made so many big strides in being drivers. It is nice to have someone else driving the truck while you sleep that you know has their best interest and your best interest in mind. I could not imagine being an over-the-road driver with anyone but my husband! Some people think we see each other more than we do but there has to be time to sleep so we each get 6 to 8 hours of sleep while the other person is driving to have some alone time. You are around your partner 24/7 which is a good thing but sometimes leads to more frequent bickering. The longer you're on the road together in our experience the less bickering you do and you find your grove and responsibilities. You always have help if you need it and company when you need it, which is wonderful, and having someone there when you're in a new area you're not sure is safe is comforting. We take advantage of any downtime over the road to visit local areas so it truly feels like we travel for work. I couldn't imagine doing anything else with my life now and I'm happier than I have been in years with my career!
Jimi and Robert Woods
My husband and I are team drivers. We have been driving together for 7 years. We had a custom ARI sleeper built in 2018. It has everything an RV has. In 2019 we decided to sell our home and live full time on the road. The pluses of being on the road together are that we know each other better than most couples who spend 8-14 hours a day at regular jobs away from home and away from each other. We are together 24/7. There isn't much we don't know about each other. The minuses is that I don't know how we would function without each other now. Everything with us flows so well most of the time. We each have our roles we play out here on the road. Running our own business together and working towards our future retirement goals is rewarding. If you can find someone that you can spend 24/7 with and not only still love them but like them, then you have found THE ONE!
Juanita and Robert Miller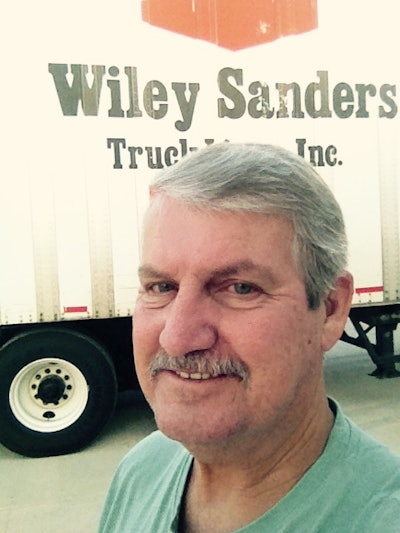 We drove team for 12 years. When we started, I would take her out 1-2 times a year for a couple of weeks. She wanted to drive. Argue now and then, one of us goes back to sleeper till they cooled off. She drove for 12 years. I have been driving for over 51 years; still driving. Thinking I'll retire at the end of this year. Maybe drive part-time local when retired.
Brandy and Nathan Roderick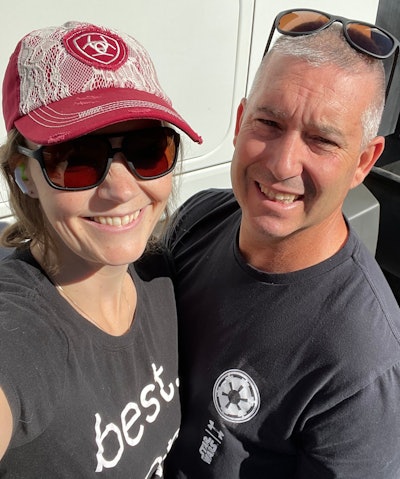 My husband and I have been driving together for a couple of months. Back in September both my husband and I quit our jobs working as correctional officers for the state of California to become truck drivers. My husband has had his CDL for 20 years. I on the other hand had never driven a truck that big let alone anything with a manual transmission. On September 29, 2021, we started our journey as truck drivers. The company we work for thought it would be a good idea for me to go out with my husband since I had my permit to learn how to drive. It was very trying learning how to drive a manual in a big rig but I was able to. Flash forward to December I went to a truck driving school for a few days to learn the backing maneuvers to pass the DMV test. On December 15, 2021 I obtained my CDL and we have been driving team since then. Although I haven't had my license for long have been on the road together since September. My husband and I came up with a schedule that works for us and adjust it as need be. I drive from 2 p.m. to 2 a.m. and he drives from 2 a.m. to 2 p.m.. We chose this schedule so that he is doing most of the deliveries and I still get some sunshine when I'm driving during the winter months. We choose the 12-hour shifts so that we pretty much stay on the same schedule every day. It makes it easier for sleeping. The 12 hours works out great with 11 hours of driving that leaves time for our 30-minute break and two 15 minute bathroom stops if we need them. Both of us usually do what we need to on our break and then come lay down with the other one for a little while. We also utilize the time at the docks to spend time and cuddle with each other. We have one meal a day with each other and of course, we are around each other at shift change. We both normally sit up for a little while with one another. We have it worked out to where we get to spend time with each other and still get to our destinations on time. When we have time built into our loads we spend even more time together. The good thing is we get to go to new places together and make notes on places we might want to take the family. The downside is we don't always get to spend a bunch of time together and we don't get to sleep together every night. That being a minor drawback. We have learned to take advantage of spending time together and to take off any time that we need. We love being on the road together.
Kia Young and Ryan Cain
We met on Facebook, talked on the phone through FaceTime and other ways. We decided to get serious and date and say hey why not? Love and making money doing it together to build a better life as a whole. Long haulers. West coast to the Southeast. We are the Slab ADDIXTs.
Eileen and Thomas Sumwalt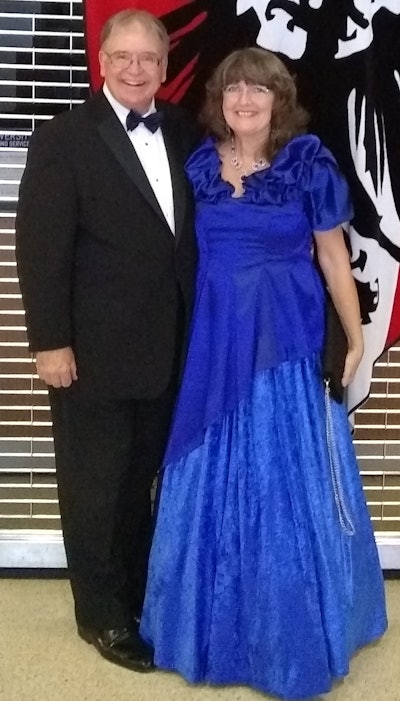 Stepping out of a semi-truck in formal wear is one highlight of being a professional driver with my passenger wife. Driving a load to Wisconsin in April allows us to attend a Viennese Ball at my wife's alma mater. My driving career began as a school bus driver, then I became a CDL truck driver. Since my wife loves to travel, we decided to become a trucking couple. Over 13 years later of driving for Marten Transport, we still make a trucking lifestyle work by preparing healthy meals and snacks on our home time. Then, we take them on the truck in our large cooler. Being on the road together allows us to communicate in person and to enjoy each other's company. We share adventures wherever we go: from seeing Niagara Falls and seaports to watching frolicking squirrels and grazing deer in the pine tree-covered rest areas. With both of us on the road, sometimes household projects get put on hold. We use our home time to clean and restock the truck. Also, we try to get in at least one car trip to our favorite beach to collect seashells. After each completed trip, we eagerly read the destination detail of our new trip. Each day, we look forward to the new adventures awaiting us!
Janie and Jesus Renteria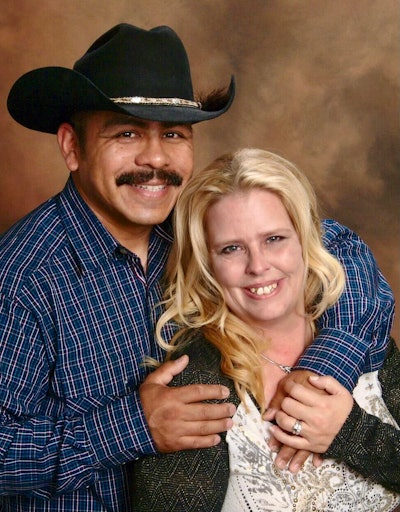 We have been husband and wife team for 6 years. We work 12 hours splitting me noon until midnight and my husband midnight until noon We have been married 8 years and love being together. The minus is he is always trying to tell me how to drive -- lol. I have been driving for 15 years and he has been driving 30 years. We do dedicated runs and are home every weekend as company drivers. We both have been owner-operators and don't want the headaches.
James Cave and James Surman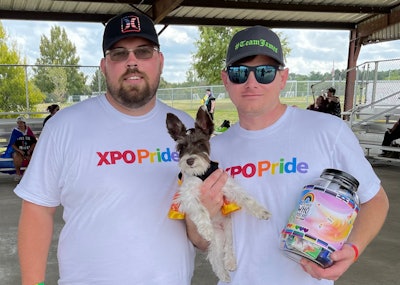 Well, we started out in trucking school in May 2018. I was married to my now ex-husband and Surman was single. We got to talking one day and everything kind of fell into place. We have been together since the day we met and started team driving immediately out of school. We have had some difficulties on the road as far as arguing but aside from that we really complement each other well. We help each other in all aspects of driving, backing, paperwork. We worked hard for three and a half years and managed to move up into a new ARI Legacy sleeper truck. So now we can cook on the truck and sleep more comfortably.
Sara and Francis Dame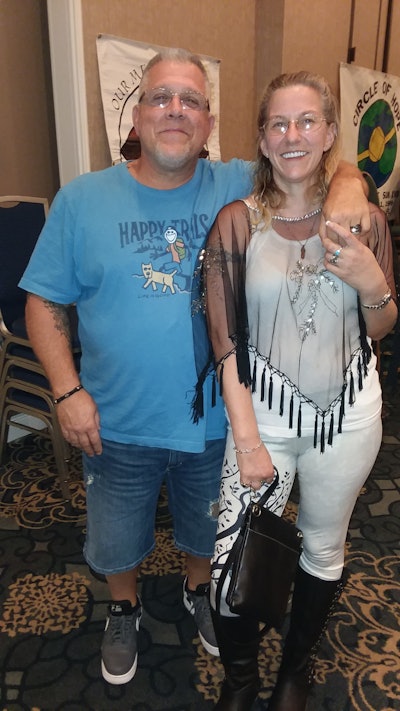 Originally I stayed at home, while Francis was on the road. I missed him terribly. He had several co-drivers during this time. After the third driver didn't work out, he made a comment to the boss about having me as his co-driver. The boss said he would give me a chance if I could get my CDL. So in March of 2020, we hit the road together! He was a stubborn trainer, not letting me wimp out on the backing skills, or give up. And I'm more than thankful for it. With patience and tolerance, I have become a strong reliable driver, covering my entire shift of responsibilities. We have always got along well, so the small space adjustments were fairly easy for us. Communication on all levels is the most important key to our success. We try to have good meals together, which any driver knows is one of the hardest parts of the job. We view our life together as a partnership, in all areas. So we strive to do what is best for us as a team. The nice paychecks every week help as well!
Bernadette and Ryan Hood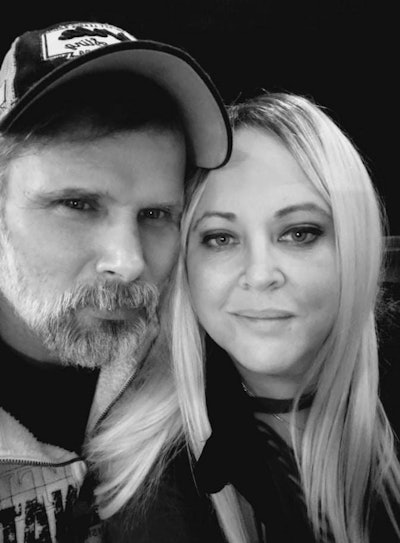 We started driving together in 2016, both of us starting over in life at +40 years. I (Ryan) have been driving now for almost 30 years. She (Bernie) was new to driving and having a hard time finding a job. We approached a carrier and got hired as a team where I would train her. We spent every moment of every day for 2 years straight together. What started as a friendship turned into a marriage in 2019. We figured since we didn't kill each other living in a shoebox we were meant for this life together. We missed out on a few parties and concerts because, you know, you're a team and are called upon for emergency loads. And we ran hard. Cooking on the road, domestic things like finding places to do laundry, pretty much 24-7-365 camping without a sink and toilet! Ever been trapped in a small confined area with no exit with a PMSing woman? We didn't fight much, we bickered, and closed the back curtains for alone time. We travel almost everywhere in the lower 48 and most of Canada. We found the most enjoyment in little mom and pop shops along our way. One late autumn night in West Virginia crossing over the New River Gorge Bridge on US Highway19 near Fayetteville, Garth Brooks began singing on the satellite radio "The Dance", no one was around so I stopped the truck and grabbed my beautiful wife and we had a dance in the side, of the moonlit road. We have had many more adventures like I stopped in the middle of New York City in 2017 and wading through knee-high water just to grab ice cream, for my wife (she loves Ice cream cones) Offloading very expensive cars in Connecticut 2018 in a massive downpour, freezing our butts off in Eastern Quebec 2017 with a 4-day layover and going through old museums in the Rockies 2018 and our favorite Halloween in Salem, Massachusetts October 31, 2019. Then covid hit forcing us to make hard decisions. One day, when everything gets right in this old world The Schmoo (Ryan) and the Gypsy Bear (Bernie) will hit the road once again.
Clenna and Troy Smith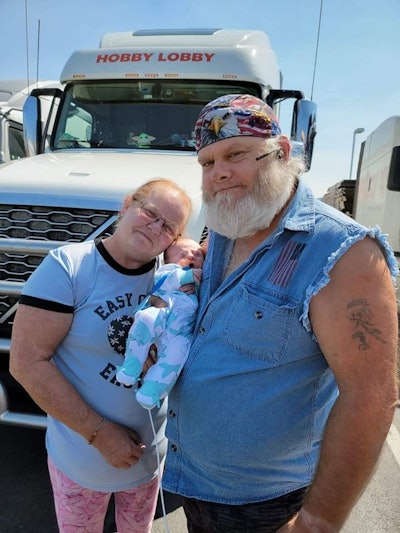 Originally to escape a bad situation. Was just a passenger for years, until diagnosed with breast cancer. Skip to 2012, we got married and he was like just go to school to get your license already. Wouldn't have it any other way now.
Angela and Ron Bretherton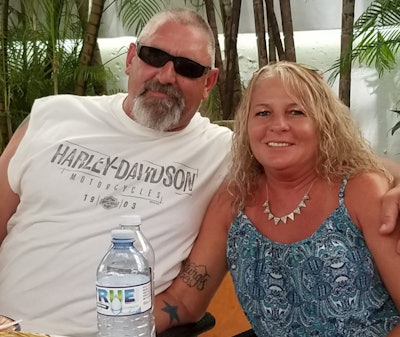 When I met my husband, I went out on the road with him and truly enjoyed it. I told myself I can do this. So I went and got my CDL. The best career move I ever made. We have a lot of fun on the road together mostly being on the same page about different issues like meal planning in the truck and a good understanding of each other's needs makes it work for us. The Plus is being with my husband every day and enjoying this adventure together. The minus, well, honestly can't think of any.
Jill and Anthony Broyles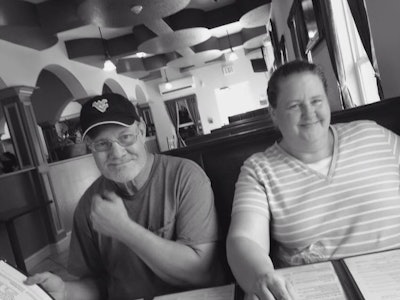 He has been over-the-road about 12 years. After a co-driver flipped the truck and about killed him, I got my CDL ( at 55) and joined him as team 2 1/2 years ago. We get along great so that is a huge plus.
Sheila and Daven Brown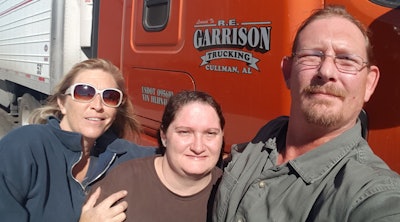 We trained together in 2000. We keep a steady schedule of 7 to 7. Plus side we're together all the time. The downside is we're together all the time.
Red Hurricane and Red Viking Trucker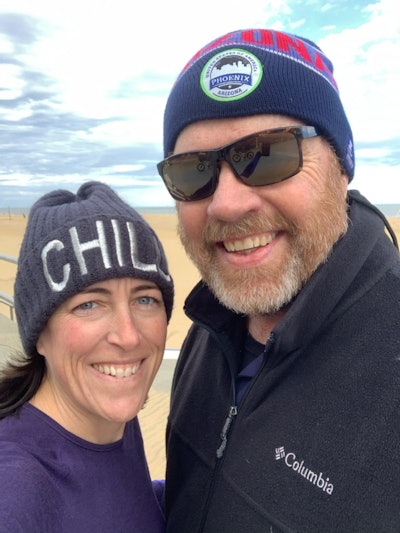 I'm a former military flight officer and real estate mogul (61) who lost it all in 2008-2012. She's a former missionary, born in England, (41) whose husband of 10 years died tragically in a car accident in 2020. She came on my YouTube channel to do an interview about her planning on getting into trucking to rebuild her shattered life, and starting over almost from nothing at 40 years old. I agreed to train her, and we fell in love and married in Vegas after 8 weeks. She's like nobody I've ever known, and one of the most capable women I've ever been around, and she speaks 3 languages, all 125 lbs and 5'5" of her. I'm 6'2", 240 lbs for reference. We only really argue about deep, core issues, and we are around each other 24 / 7/ 365, which I've never been able to pull off with any woman before. We make incredible money driving team in this economy, which she still can't comprehend fully, calling it Monopoly money. I can't ever imagine going back to a cubicle life, and she feels the same.
Anna and Donald Nemeyer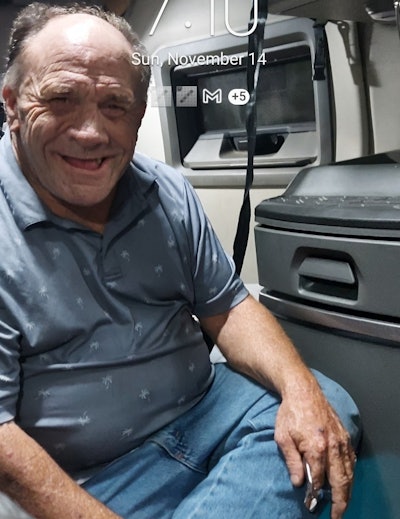 Being on the road together is a blessing and a curse. You're in the truck together for days, months and hours at a time. It is not all roses. Sometimes you have conflicts, but if you love each other you can work through them. I can tell you that it is much cheaper than paying someone to rent an apartment or to pay an outrageous mortgage. It just would be nicer if the trucks came with more comforts like a different way of cooking instead of a microwave and more room for the two of you to move around inside the truck and bigger bottom bunks so you can sleep together instead of on up and down. But we make it work.We have been together for 27 years and I love him with all my heart and soul.
Bobby Loy and Richard Coffee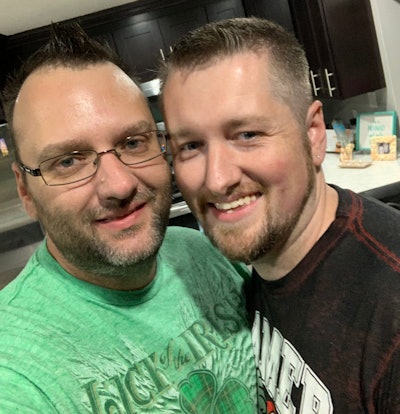 Being on the road as a husband team has brought us closer together and strengthened our relationship. We enjoy traveling the country with our two dogs and experiencing life on the road, amusement parks, shopping and just time spent together. We started our career in trucking together, went to trucking school together, and have shared every step of the way. Being able to travel the country and see family and friends and to share all that with your life partner is so rewarding. The road has a way of giving you so much clarity about life, love, family and relationships.