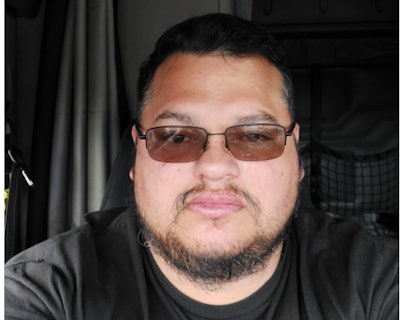 A Tennessee truck driver has been honored by a national industry organization for helping a fellow trucker.
The Truckload Carriers Association recently named Mike Rivera, from Newport, Tennessee, a Highway Angel for stopping to rescue another trucker after his tanker truck flipped.
TCA explains:
One night last Fall, Rivera was driving his truck north on Route 301 just outside Gainesville, Florida with his 12-year-old son, Nathan. A tanker truck was approaching them in the opposite lane, heading south. Just then, at an intersection, a car ran a red light and the tanker truck swerved in an effort to avoid hitting the car. Despite the tanker truck driver's efforts, the car was struck.

"He rolled his truck and he came and slid across in front of our truck," said Rivera. "I hit the brakes and the truck came to a stop and I jumped out and went and mule-kicked the windshield, broke it, and we got the driver out."

Rivera said the driver had bumps and bruises but walked away from the accident. Once the driver was extracted from the truck, Rivera and other bystanders ran to the car the truck had hit to check on the driver, a young woman. Rivera said she was not seriously injured.

Once police arrived, Rivera said, "We even helped to block in some of the traffic for the Sheriff's Department."

Rivera is no stranger to putting himself in harm's way to help others. He has been a volunteer firefighter in Grassy Fork, Tennessee since he was 16, and received medical training when he was in the U.S. Army.

"It was no big deal," shared Rivera. "This is what we're supposed to do as drivers – we're the unsung heroes out here."
TCA has presented him with a certificate, patches, lapel pin, and truck decals. The company has also received a letter acknowledging him as a Highway Angel.
Since the program's inception in August 1997, nearly 1,300 professional truck drivers have been recognized as Highway Angels for the exemplary kindness, courtesy, and courage they have displayed while on the job.