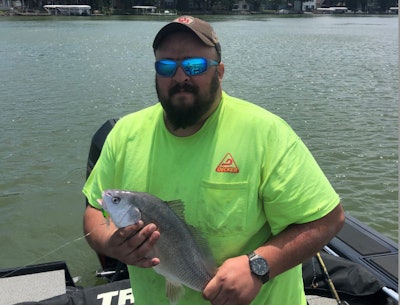 An Oklahoma truck driver for Decker Truck Line, Inc. was recently honored for his actions at the scene of an accident on Interstate 35.
The Truckload Carriers Association recently named Grant Quinton, from Noble, Oklahoma, a Highway Angel for rescuing a grandfather and his 10-year-old grandson from their overturned vehicle and keeping them safe until authorities arrived.
TCA explains:
On Sunday, February 6, 2022 around 7 a.m., Quinton was in the passenger seat while training another Decker Truck Line driver. A snowstorm had just come through that area of Oklahoma, and the pair were driving north on I-35 near Tonkawa. They came upon an overturned Dodge Ram pickup truck. Apparently, the pickup truck had a blowout, the vehicle rolled, and no other vehicles had yet stopped to help. Without a moment to spare, Quinton's trainee safely pulled the truck over to the shoulder.

As Quinton approached the overturned vehicle, he heard thumping, so he quickly ran back to his truck to retrieve a rubber mallet. Moments later, he returned to the accident scene while calling 911.

"I was able to help get them out of the truck," he said. "It was a 10-year-old boy and a grandpa, and I got them across the street behind my semi."

Quinton's goal was to get the accident victims to the safest place possible. He offered them water and blankets, and kept checking on the welfare of the child, who appeared to have a concussion. Emergency crews arrived and took over.

"Just do what's right," Quinton said regarding why he stopped at the accident scene. "I'm gonna stay on the road for the rest of my life – if I have the chance to do a job that I really like, see a bunch of places and I also have a chance where somebody's in trouble and nobody's there and I can help them, that's worth being gone and doing this job."
TCA presented him with a certificate, patches, lapel pin, and truck decals. The company has also received a letter acknowledging him as a Highway Angel.
Since the program's inception in August 1997, nearly 1,300 professional truck drivers have been recognized as Highway Angels for the exemplary kindness, courtesy, and courage they have displayed while on the job.