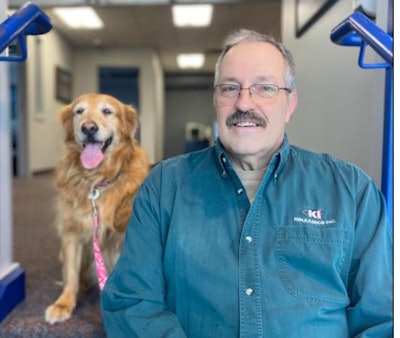 A truck driver for a Michigan-based carrier was recently honored for coming to the aid of a motorist who was injured in a rollover accident.
The Truckload Carriers Association named truck driver Mike Pagel from Boca Raton, Florida, a Highway Angel for helping a young motorist who sustained injuries following a vehicle rollover. Pagel drives a truck for Koleaseco Inc. based in Hudsonville, Michigan.
TCA explains:
He was driving on the afternoon of March 24, on Interstate 80 near the village of Potter, Nebraska, when he witnessed a pickup truck veer off the side of the road, overcompensate, and swerve back across traffic.

Mike Pagel from Boca Raton, FloridaMoments later, Pagel watched as the vehicle rolled several times before landing off the roadway, coming to a rest on its passenger side. Without a moment to spare, he safely pulled to the shoulder, dialed 911, and then ran to the mangled truck.

"He didn't know what happened," Pagel said. "He wasn't moving at all when I first got to him." The professional truck driver crawled into the truck with the man, and noticed he had bad gashes on his head and neck and was bleeding from his mouth.

Though Pagel has no formal medical training, he attempted to hold the driver still because he wasn't certain if the man had suffered a spinal injury. "I was kind of in an awkward position," said Pagel. "A lot of the windows were smashed out and the roof was kind of compromised, so I was just trying to keep him from hurting himself even more."

Nearly 30 minutes later, emergency responders arrived, but he continued to assist in holding the driver steady as the rescuers worked diligently to cut the roof off the vehicle.

"I had my arm resting underneath his head," said Pagel. "Holding his head off some metal that had been torn – it was sharp."

The emergency personnel were impressed with Mike's efforts. "I've been in EMS for 21 years and Mike is one of only a handful of people I've witnessed help as much as he did. We could definitely use more people like him," said Jason Teters, a first responder at the scene.

The driver was eventually pulled from the vehicle and is recovering.
TCA has presented him with a certificate, patches, lapel pin, and truck decals. The company has also received a letter acknowledging him as a Highway Angel.