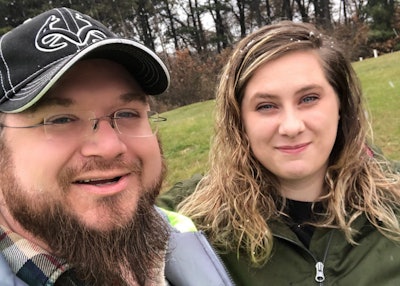 Team drivers for a Pennsylvania trucking company were recently honored for their actions at the scene of a severed head-on collision in Kentucky.
The Truckload Carriers Association recently named truck drivers John Dowdy and Kloe Myers Highway Angels for stopping to rescue drivers from a serious head-on collision. The team drives for K.L. Harring Transportation based in Bethel, Pennsylvania.
TCA explains:
On March 10, in the early evening, Dowdy was driving with fiancé/co-driver Myers on Highway 60 in Lexington, Kentucky. Dowdy was the first on the scene at a serious head-on collision involving a Dodge Dakota smashing into a Ford sedan. Allegedly, the Dakota had attempted to make a left-hand turn and hit the Ford head-on.

Dowdy quickly applied the brakes and pulled over to the left to block the accident from other oncoming traffic. Both Dowdy and Myers ran to the two vehicles involved to assess the situation, help the drivers, and secure the scene.

Dowdy rescued the driver of the Dodge Dakota, who was dazed but not seriously injured, though his vehicle's front was completely smashed in. "I was relieved that he was alive and I was able to break his door free and pull him from the truck," Dowdy said. "So we went over to the second car and we could not get his door open."

Showing exceptional strength, Myers helped bend the top of the door of the vehicle to reach the other driver involved in the accident. "She had already checked his vital signs and everything before I got there," said Dowdy. "She grabbed the top of the door frame and yanked back and pulled it."

The driver of the sedan suffered no serious injuries, though his car door had to be cut off to extract him. The driver of the Dodge Dakota, who later was arrested and allegedly charged with driving under the influence, allegedly pulled in front of the sedan and caused the accident.

Though Dowdy has only been truck driving for four years and Myers has been driving for 2 1/2 years, this is not their first Highway Angel award. Read here how they assisted motorists in need in March 2020.
TCA has presented the team with a certificate, patches, lapel pins, and truck decals. The company has also received a letter acknowledging him as a Highway Angel.
Since the program's inception in August 1997, nearly 1,300 professional truck drivers have been recognized as Highway Angels for the exemplary kindness, courtesy, and courage they have displayed while on the job.