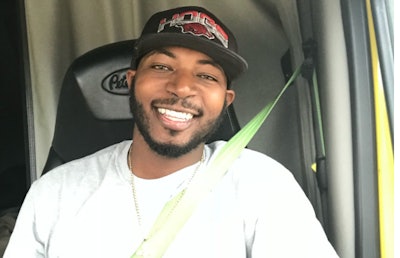 A trucker from Arkansas has been recognized for helping rescue a woman who jumped off a bridge into an Alabama river.
The Truckload Carriers Association recently named truck driver Gregory Coleman from Marked Tree, Arkansas, a Highway Angel for rescuing a woman who jumped off a bridge in the middle of the night. Coleman drives for Decker Truck Lines from Ft. Dodge, Iowa.
TCA explains:
On April 25, Coleman was driving on Interstate 65 in Priceville, Alabama around 3 a.m. when he approached the Tennessee River Bridge, where he was stopped by a man.

Coleman was told by the man that a woman he knew had jumped off the bridge. Coleman asked if the man had any rope to throw down to the woman, who was still alive in the water. "I could tell he was panicking," Coleman said. "At that point, I knew I didn't have rope but I ran around and grabbed some straps."

Coleman and the man tied three straps together, each approximately 15 feet long, he said. Then they tied one end of the straps to the bridge and threw the other end into the water for the drowning woman to hold onto.

Coleman recalled that it took emergency responders from Morgan County Rescue Squad nearly 40 minutes to arrive at the scene. Responders arrived by boat and transported the woman to an ambulance at Riverwalk Marina nearby.

The sister of the woman who jumped off the bridge contacted Coleman's company to thank him, saying if he hadn't stopped with those straps the family was sure she would have drowned before the rescue boat got there since she was hurt, cold, and barely able to stay above the water. They were thankful that she now has a second chance and can get the help she needs.

"If it would help somebody out," Coleman said modestly, "I would do it."
TCA has presented him with a certificate, patches, lapel pin, and truck decals. The company has also received a letter acknowledging him as a Highway Angel.
Since the program's inception in August 1997, nearly 1,300 professional truck drivers have been recognized as Highway Angels for the exemplary kindness, courtesy, and courage they have displayed while on the job.