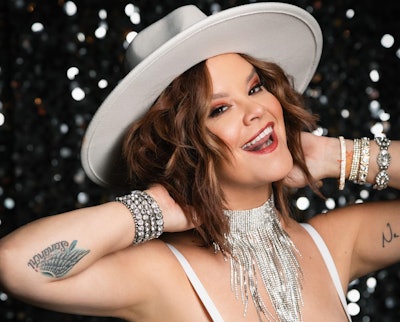 Lindsay Lawler, the singer-songwriter known for her powerful voice and songs saluting truckers, is the new cohost of a popular satellite radio show.
RadioNemo of North America announced Lawler will co-host Dave Nemo Weekends. She begins co-hosting the show with Jimmy Mac this weekend, Nov. 5 and 6 on SiriusXM's Road Dog Trucking channel 146. The show airs every Saturday and Sunday from 7 to 11 a.m. Eastern.
Born in Oklahoma and raised in Texas, Lawler spent several years performing in Los Angeles along the Sunset Strip. After touring with her California-based band, she made her way to Nashville to become a featured performer at the famous Tootsie's Orchid Lounge. It was at the 2010 Great American Trucking Show in Dallas that Lawler formed a partnership with the Truckload Carriers Association. She was named the national spokeswoman of their Highway Angel program, and her song, "Highway Angel," became an anthem for truck drivers everywhere.
Lawler then spent several years supporting the truck driving community through performances on her Highway Angel Truck Stop Tour. In her role as an ambassador for the industry, she has spent multiple years performing at the Capital in DC for the lighting of the National Christmas Tree, as well as at Arlington National Cemetery for the laying of wreaths in association with Wreaths Across America.
Along the way, Lawler has penned many recognized trucking songs including "The Long Haul" for Women In Trucking, "I Drive" for TA/Petro's Citizen Driver program, and "One Mile At A Time" for Wreaths Across America. Her last released album, Two Peaches, Six Cookies, was distributed to all TA/Petro locations across the country as well as on iTunes and all music streaming platforms.
Lawler is making a comeback this year in 2022 after a few years away from recording. Her first single, "Buy My Own Diamond," a Latin dance track, came out in January, and her second single, "I'm Okay," was featured on people.com along with an in-depth interview with Lawler. New singles, all different in genre, and all very personal to Lawler, will come out periodically over the year, with a Texas "Red Dirt" record coming out at the end of 2022. That album will be coupled with a truck stop tour and performances throughout Oklahoma and Texas.
In addition to her songwriting, performance and spokeswoman career, Lindsay Lawler has spent years on-air in radio and as a podcast host. She mentors many young artists in the music business and is the face of the Nashville Music Loft, a private music event space in downtown Nashville. She also owns Nashville Bachelorettes, a music and event planning company that focuses on planning weekend agendas for groups traveling to Nashville who want VIP experiences in music, food and drink.
Lawler resides in Nashville, TN with her husband Seamus who works in TV/Film production, and their 3- year-old daughter Freya, whom they adopted from the Marshall Islands.