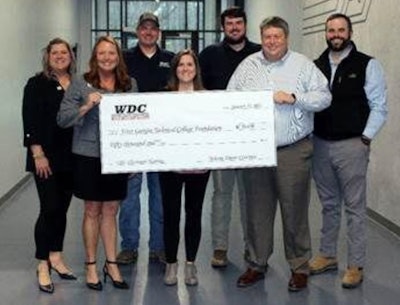 Representatives from Wayne Davis Concrete (WDC) recently presented a check for $50,000 to the West Georgia Technical College Foundation to support the College's commercial truck driving program and name the CDL classroom at the new Carroll campus.
WDC is the first company to enroll employees in WGTC's pilot credit CDL internship program, which was established after the Entry-Level Driver Training mandate went into effect last year. The ELDT requires that drivers pass in-depth classroom and behind-the-wheel training from a training provider registered with the Federal Motor Carrier Safety Administration in order to obtain a CDL.
Students enrolled in the internship program receive classroom training at WGTC and road training with their employers. The employers' instructors are approved by WGTC and hold the same qualifications as WGTC faculty. At the completion of the classroom and road training, the students test with WGTC instructors to receive their CDL.
"We are so thankful to Wayne Davis Concrete for their generous donation to name our CDL classroom," said WGTC Foundation Executive Director Brittney Henderson. "Having a reputable business associated with our CDL program is a true testament to the education it provides."
WDC is the leading privately-held, family-operated ready-mix concrete supplier in northwest Georgia. They operate 17 ready-mix plants, 110+ ready-mix trucks and employ about 225 people.
"We are excited to announce our partnership with WGTC as we work together to provide more education and training opportunities for individuals throughout the West Georgia area," said WDC President Richard Davis.
West Georgia Technical College, with campuses in Carroll, Coweta, Douglas, Haralson and Troup counties and class sites in Heard and Meriwether counties, offers more than 120 associate degree, diploma and technical certificate programs of study. A unit of the Technical College System of Georgia, West Georgia Tech is one of the largest of the state's 22 technical colleges.