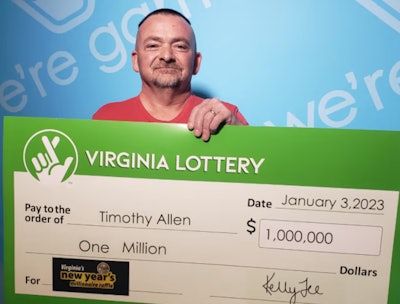 Virginia Lottery
A Virginia truck driver became a millionaire thanks to his desire for a barbeque sandwich.
Tim Allen told the Virginia Lottery he stopped at Mills Grill and Grocery near Danville, Virginia. While there, in addition to his sandwich, Allen bought two tickets for Virginia's New Year's Millionaire Raffle. One of them was good for the drawing's top prize.
"I couldn't believe it!" he told Virginia Lottery officials. "It was the first time I'd bought a Raffle ticket."
Allen's big win was one of five top prizes announced on New Year's Day.
"It feels great!" Allen said as he collected his prize. "Pure excitement!"