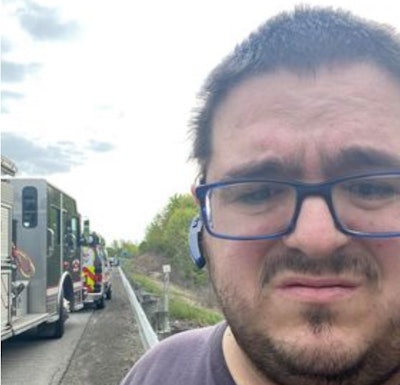 A professional driver and former volunteer firefighter has been recognized for extinguishing a vehicle fire on Interstate 64.
The Truckload Carriers Association recently named Brandon Kelly, from Odessa, Florida, a Highway Angel for stopping to extinguish a car fire on the side of the road. Kelly drives for Hirschbach Motor Lines out of Dubuque, Iowa.
TCA explains:
Brandon KellyOn May 8, around 11 a.m., Kelly was driving on Interstate 64 in Huntington, West Virginia. A man standing on the side of the road by his Jeep Wrangler flagged Kelly down.

"I saw smoke coming from the guy's vehicle," he said.

Kelly quickly and safely pulled over, grabbed his fire extinguisher in the truck and called 911.

"He (the vehicle owner) was starting to open the hood of the vehicle to see what it was — I told him not to do that because it might feed oxygen to whatever was smoking," he said.

Kelly extinguished the fire, while on the phone with the 911 dispatcher. A former volunteer firefighter, he had basic training that helped with the situation.

When the fire department arrived 15 minutes later, officials told Kelly he was in the right place at the right time. Apparently, there was gas leaking in the vehicle, as well as burned wires. A truck driver for the past eight years, Kelly did not hesitate to stop to help the driver.

"I was raised, if somebody needs help, it doesn't matter what kind of help it is, just stop to see if you can offer some assistance," he said.