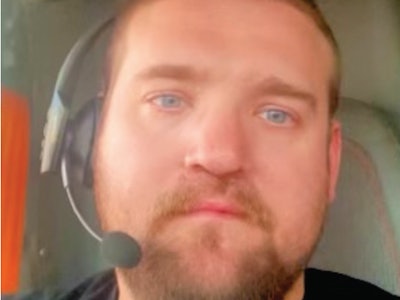 A driver for a Missouri trucking company has been recognized for the help he rendered at the scene of an accident on Interstate 40 in Arizona.
The Truckload Carriers Association recently named truck driver Michael Rohn from Griggsville, Illinois, a Highway Angel for stopping to help the passengers of a van that crashed in front of him on the road. Rohn drives for Angie's Transportation out of St. Louis.
TCA explains:
Michael RohnOn June 3, around 9:30 a.m., Rohn was traveling on Interstate 40 in Bowie, Arizona when he witnessed a van in front of him blow a tire and start rolling.

"I stopped and when I got there, the driver was a little dazed and confused," Rohn said. "We got her out, but another passenger was trapped, and they had a child that we pulled through the window."

Rohn tended to the injured passenger trapped inside the vehicle, keeping him calm, until first responders arrived. Then, Rohn helped the first responders remove the male passenger from the van. He said there were also five dogs in the vehicle, each of which got out of the vehicle safely.

"If it was me, I'd want somebody to help me," Rohn said, as to why he went to such lengths to assist the crash victims.
Since the program's inception in August 1997, TCA said nearly 1,300 professional truck drivers have been recognized as Highway Angels for the exemplary kindness, courtesy, and courage displayed while on the job. Thanks to the program's presenting sponsor, EpicVue, and supporting sponsor, DriverFacts, TCA said it is able to showcase outstanding drivers like Rohn.