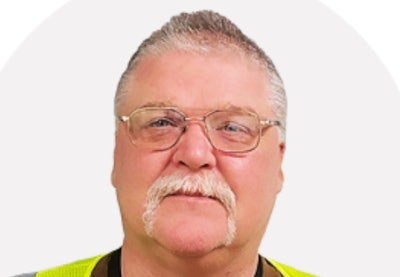 A New York trucker has been recognized for his actions at the scene of a serious motorcycle accident earlier this summer.
The Truckload Carriers Association recently named truck driver Patrick 'Pat' Grant of Troy, New York, a Highway Angel for stopping to help a severely injured motorcyclist who crashed and was bleeding out. Grant drives for J.B. Hunt Trucking out of Lowell, Arkansas.
TCA explains:
Patrick 'Pat' GrantOn July 2, around 1 a.m. in Coxsackie, New York Grant was driving north on the New York State Thruway when a motorcyclist passed him. Grant backed off to allow the driver some additional space, and then he saw the motorcyclist hit a guardrail and fly off his bike.

As Grant approached, he saw the bike in the left lane and the driver in the breakdown lane. He quickly jumped into action, blocking traffic with his truck, and called 911.

"I saw that he was in really, really bad shape," Grant said. "Basically his arm was twisted up—a big bone was sticking out of his arm. I pretty much got that bleeding stopped, then I looked at the leg; his foot was inside his shoe, just hanging off by the achilles tendon."

His quick and resourceful thinking gave him the idea to grab two phone chargers from his truck. He then ran back to the injured cyclist and applied them as tourniquets to the driver's arm and leg to halt the bleeding until paramedics arrived. Medical professionals who arrived on the scene told Grant that without his quick-thinking, the motorcyclist would likely have bled out.

"I was just trying to do what I could for this gentleman," he said.
Since the TCA Highway Angels program's inception in August 1997, nearly 1,300 professional truck drivers have been recognized as Highway Angels for exemplary kindness, courtesy, and courage displayed while on the job. Thanks to the program's presenting sponsor, EpicVue, and supporting sponsor, DriverFacts, TCA is able to showcase outstanding drivers like Grant.