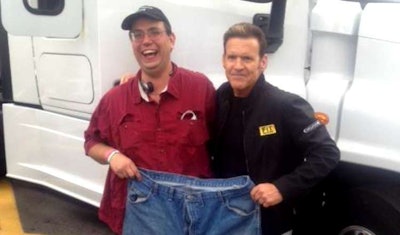 Tom Kyrk is a big man – though not as big as he used to be – with a broad smile and an even larger idea of making his fellow truckers healthier by showing them how to be better in-cab cooks.
He blogs about cooking and shares recipes at his website, and has an e-cookbook about to launch. But his day job is driving for a major refrigerated carrier in the East.
Linda Caffee and her husband Bob are Freightliner Team Run Smart pros and blog about food, finances and life on the road. Long time drivers, they are leased to Landstar Express America.
Next week during the Mid-American Trucking Show in Louisville, Kyrk and Caffee will preside over a first ever program they have named the Cooking in the Truck Summit. The gathering will be held Thursday, March 26 at 8 p.m. at Freightliner's hospitality trailer in the Papa John's parking lot.
All are invited to the event that is meant, according to Kyrk, to form connections between folks who, like he and Caffee, believe cooking on the truck is not a chore and does not have to be expensive. The summit is also meant to be a place for folks to share ideas on appliances, storage and saving money while making healthy and tasty meals.
It's also meant to spur conversations with companies providing on-truck products and services so they know what the typical trucker wants and needs. Kyrk adds that he hopes it could lead to truck stops carrying more and healthier products for on-truck cooking.
"We want to encourage drivers to start cooking in their trucks," says Kyrk. "This gives them a chance to be more in control of their lives, especially their health."
Two years ago his weight topped 300 lbs., and like many drivers, his eating habits were not the best.
He says he started cooking for himself in his truck, and was pleased that before long he was down to 245 lbs.
"I realized that if I wanted to be healthy, cooking on the truck had to be part of my life," says Kyrk, who has been driving for about nine years. "The doctor said I didn't have a choice."
So he embraced healthier cooking like a good convert: with zeal.
Kyrk says he had another incentive. Driving in the East, he spends a lot of time on New York City metro highways, where buying food at a truck stop or fast food place gets very expensive very quickly.
He says he has two kitchens: one for 12 volt and one for household current. His basic appliances include an electric skillet, a crock pot and a RoadPro Stove to Go lunch box style cooker.
Kyrk is considering an Aroma cooker, an appliance many truckers swear by.
"It doesn't have to be expensive to do this," said Kyrk, who says his on-truck starter kitchen cost about $120. One of the costliest and most necessary appliances is a cab-sized refrigerator.
In a news release about the get-together, Kyrk and Caffee wrote: "The ultimate purpose of this meeting is to bring everyone together to exchange ideas and encourage unity. This is not about promoting one style of cooking or way of doing things. Everyone is welcome from the expert chef to the novice who just reheats cans. There is no wrong or right way."
For more information about the event, contact Kyrk at roadtested[email protected] or Linda Caffee at [email protected]