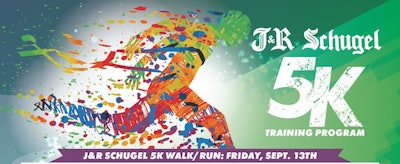 J&R Schugel's annual 5K event promotes employee health and wellness among its drivers and office employees alike.
The 5K takes place annually on the Friday of National Truck Driver Appreciation Week and started in 2005 or 2006. This year's event was held across six of the fleet's terminals and drew in 134 in-person participants.
Participating terminals included J&R Schugel's corporate office in New Ulm, Minnesota; Tulum, Wisconsin; Columbus, Ohio; Grand Rapids, Michigan; Somerset, Kentucky; and Ellenwood, Georgia. Drivers who were unable to participate in-person at a terminal were given the option of sending in their 5K information to participate remotely.
"We send out fleet messages (to drivers) and each participant receives a wellness gift as well for participating. The drivers can send in that they've completed a 5K, they can walk around their truck so many times or, if they choose to do it at home, they can certainly send that in," said Courtney Wittman, the fleet's director of human resources.
Everyone participating in the 5k receives a gift. This year's gift was a backpack with the fleet's wellness logo on it stuffed with health and wellness literature. The nylon bags had a water bottle holder and netting on the inside for small shampoos and body wash, for drivers who may need a way to carry their shower supplies.
"For us having a wellness program is really important not only for our driver population but internally as well," Wittman said. "It helps you talk about health and wellness and just to get up and away from your desk or out of the truck moving around. It's not just the 5K but you're actually having conversations while you walk, run, or job, so that's nice, and networking and getting people to know each other."
J&R Schugel shares out a 5K training plan in advance of the event to help employees prepare. This year's scheduling plan can be seen below courtesy of J&R Schugel.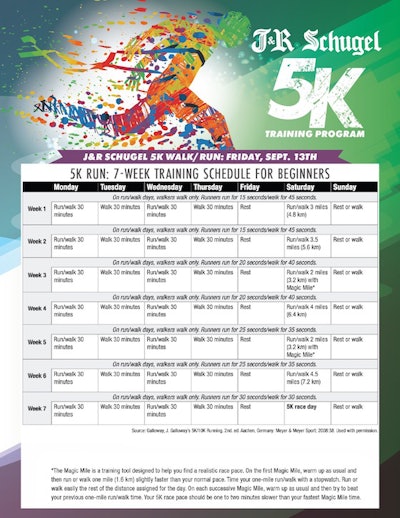 ___
Deanne Winslett is the associate editor for Truckers News and She Drives Trucks. You can submit story leads to her at deannewinslett@randallreilly.com.