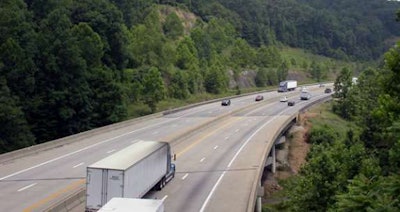 If you're driving through West Virginia in the next year, expect to see stepped-up enforcement aimed at commercial vehicle traffic.
The state received a $180,000 grant from the Federal Motor Carrier Safety Administration's (FMCSA) Increased Commercial Enforcement (I.C.E.) program.
Enforcement activities will focus on seatbelt use compliance and the ban on drivers using handheld electronic devices, according to a statement from the West Virginia Public Service Commission.
The patrols will continue through September 2015 and concentrate on what the FMCSA calls "high crash" locations including:
Route 33 in Barbour, Lewis, Randolph and Upshur Counties
U.S. 460 in Mercer County
Route 52 in Mingo, Wayne, Logan, Cabell and McDowell Counties
U.S. Route 19 in Braxton, Fayette, Nicholas and Raleigh Counties
U.S. Routes 35 & 817 in Putnam and Mason Counties
W.V. Turnpike/I-77 in Kanawha, Raleigh, Fayette and Mercer Counties
I-77 in Wood and Jackson Counties
I-81 in Berkeley County
I-70 in Ohio County
I-79 in Monongalia, Marion and Harrison Counties
Statewide enforcement on roads affected by Marcellus shale drilling traffic