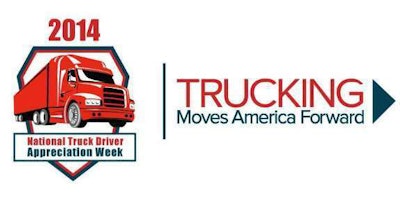 National Truck Driver Appreciation Week — a week of celebration of U.S. truck operators spearheaded by the American Trucking Associations — started Monday, Sept. 15 and runs through Saturday, Sept. 20.
The event, says ATA, is coordinated each year to show the country's 3.2 million truck drivers that carriers, shippers and the rest of the industry appreciate "the extremely important job" they do.
Some of ATA's fleet members and its state associations will host driver appreciation events, and others will reward them with bonuses or other gifts, ATA says.
Other events during Driver Appreciation Week include:
TCA Health Fairs
The Truckload Carriers Association (TCA) is sponsoring free health fairs today, Sept. 16, at 15 TA/Petro locations across the country, intended to help drivers better their health, TCA says.
Any driver with a CDL can stop by at one of the locations below between 3 p.m. and 6 p.m. The fair will offer blood-pressure screenings and glucose testing, along with activities like cornhole, basketball, dog washing, pet adoption, live bands, truck windshield washing and more.
Sleep apnea specialists, fitness coaches and local celebrities may also be on hand, TCA says. Drivers will also be surveyed informally on topics like how much sleep they get, when and where they exercise, what they eat and more.
Here are the locations of the fairs:
Arizona – TA – Tonopah
Arkansas – Petro – North Little Rock
California – Petro – Ontario (Shawn Hubbard Ontario Stopping Center)
Florida – TA – Wildwood (Tampa)
Georgia – TA – Cartersville
Idaho – TA – Boise
Indiana – TA – Clayton
Minnesota – Petro – Clearwater
New York – TA – Binghamton
New York – Petro – Waterloo
Ohio – TA – Lodi
Pennsylvania – TA – Harrisburg
Rhode Island – TA – West Greenwich
Tennessee – TA – Antioch
Texas – TA – New Braunfels
Pilot Flying J's free food and drink:
Pilot Flying J is offering every day this week coupons good for one 20-ounce bottle of water or any size coffee, fountain drink or refill. It will also have local celebrations at each store, it says, along with other in-store giveaways. Also, if drivers buy a Cinnabon item, they'll get another item of equal or lesser value for free.
Pegasus TransTech $100k in giveaways
Pegasus TransTech announced Sept. 15 a Driver Appreciation Week promotion in which it will offer rewards to drivers who download the Transflo Mobile+ smartphone app.
Every driver who downloads the app by Oct. 31 will be placed into a drawing to win a $100 Visa gift card, and 100 drivers will be named as gift card winners on Nov. 1.
With the Transflo Mobile+ app, drivers can scan and submit documents with their smartphones. And if their fleet has signed up for all of the Transflo services, drivers can receive load tenders from their phone; communicate via two-way messaging with their fleet; and submit reports for accidents shortages and damages from their phone.
The app is available on both Apple's App Store and the Google Play Store.