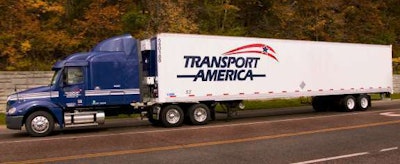 Transport America (73rd in Commercial Carrier Journal's Top 250 ranking) increased driver pay recently.
The company said it also lifted its requirement of the HazMat endorsement on its Pay for Performance Plan.
A statement from Transport America said:
Pay for team drivers increased by one cent per mile for each driver while HazMat pay increased by four cents per mile.
Solo drivers' top rate increased by one cent per mile, and pay for new hires increased so a driver with four years or more experience starts at 43 cents per mile.
Regional drivers benefitted by relaxing the HazMat requirement in pay for performance which moves pay at an accelerated rate and new hires can start as high as 40 cents per mile.
Owner-operators received a two cent per mile increase.
"Not only have we increased entry level pay, but we also enhanced the earnings experienced drivers can achieve within our organization." said Scott Arves, CEO of Transport America.
Based in Eagan, Minn., Transport America has over 1,600 drivers and provides local, dedicated, regional and over the road services.