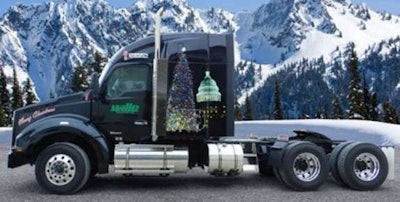 Every Christmas tree is special, but one stand out from the rest: the Capitol Christmas Tree in Washington, D.C.
This year's tree – an 88-foot-tall white spruce from the Chippewa National Forest and the Leech Lake Band of Ojibwe in northern MInnesota – will be delivered by a specially decaled Kenworth T880. A Kenworth T680 Advantage will be used to carry 70 other trees also destined for D.C.
Their trips of more than two weeks end Nov. 20. There will be special events in more than 20 locations along the way, including the Kenworth plant in Chillicothe, Ohio.
The T880 cab features a night shot of the U.S. Capitol, brightly lit and colorfully arrayed Christmas tree, the official seal of the 2014 Capitol Christmas Tree project and logo of Wille Transport, whose drivers will pilot the two trucks on their almost 2,000-mile trips.
The T880 is equipped with a 52-inch mid-roof sleeper, 500-hp PACCAR MX-13 engine with 1,850 lb-ft of torque, and Eaton Fuller 13-speed transmission. It will pull a trailer specially designed for the tree.
The T680 Advantage has a 76-inch sleeper, Eaton Fuller Advantage™ 10-speed automated transmission, Diamond VIT interior Kenworth Idle Management System and Kenworth's new, factory-installed aerodynamic package.
This truck's cargo of 70 Christmas trees donated by Minnesota Tree Growers Association, will decorate the inside of the U.S. Capitol building and other federal sites throughout Washington, D.C. It will also carry some 10,000 ornaments created by children and others from Minnesota communities to adorn the Capitol Christmas Tree and the smaller trees.
"The annual lighting of the U.S. Capitol Christmas Tree is a true American tradition. It is a special honor for Kenworth to participate in this year's 50th anniversary Capitol Christmas Tree tour," said Kurt Swihart, Kenworth marketing director. "The T880 heavy hauler is engineered with the proper specs to handle this important move, and the graphics are a tribute to the tree's destination."
Here's the itinerary for the whole trip:
Sunday, Nov. 2
11 a.m.- 1 p.m. Itasca State Park (36750 Main Park Drive, Park Rapids, MN 56601)
2 p.m.- 5 p.m. Bemidj (300 Bemidji Avenue, Bemidji MN,56470)
Monday, Nov. 3
10 a.m. – 12 p.m. City Park (MN HWY 371, Walker, MN 56484)
1-3 p.m. Leech Lake Band of Ojibwe Tribal Office (190 Sailstar Drive Northwest, Cass Lake, MN 56633)
Tuesday, Nov. 4
8:30-10:00 a.m. Blackduck Public School (156 1st Street NE, Blackduck, MN 56630)
11:30 a.m. – 12:30 p.m. Marcell Family Center (49554 State Hwy 38, Marcell, MN, 56657)
2:00-4:00 p.m. Deer River High School (101 1st Ave NE, Deer River, MN 56636)
Wednesday, Nov. 5
8:00-10:00 a.m. Wille Transport (520 West Hwy 2, Cohasset, MN 55721)
11:00 a.m. – 1:00 p.m. Grand Rapids (Highway 2 and NW First Avenue, Grand Rapids, MN 55744)
5:30-7:30 p.m. Bayfront Festival Park (350 Harbor Drive, Duluth, MN 55802)
Thursday, Nov. 6
11:30 a.m. – 1:30 p.m. Garlough Elementary School (1740 Charlton St., West Saint Paul, MN 55118)
4:00 – 6:00 p.m. Lifetouch Photography (11000 Viking Drive, Eden Prairie, MN 55344)
Friday, Nov. 7
11:00 a.m.-2:00 p.m. Mayo Clinic (16 1st Street SW, Rochester MN 55902)
4:00-8:00 p.m., with tree arrival at 5:00 p.m. St. James Hotel (406 Main Street, Red Wing, MN 55066)
Saturday, Nov. 8
9 a.m. – 12 p.m. Cabela's (3900 Cabela Drive NW, Owatonna, MN 55060)
3:30-5:30 p.m. Northern Star Council Base Camp (201 Bloomington Road, Fort Snelling, MN 55111)
Monday, Nov. 10:
3:00-6:00 p.m. Forest Products Lab (1 Gifford Pinchot, Madison, WI 53726)
Tuesday, Nov. 11
11:00 a.m. – 1:00 p.m. Community Spirit Park (Cathedral Park) (520 E Wells St., Milwaukee, WI 53202)
Wednesday, Nov. 12
12:00 – 2:00 p.m. Wilmington High School (209 Wildcat Ct., Wilmington, IL 60481)
6:00-8:00 p.m. Elwood (401 E. Mississippi Avenue, Elwood, IL 60421)
Thursday, Nov. 13:
12:00-3:00 p.m. Gerald Ford Museum (303 Pearl Street NW, Grand Rapids, MI 49504)
Friday, Nov. 14:
10:00 a.m -12:30 p.m. & 4:00-7:00 p.m. Michigan State University (542 Auditorium Road, East Lansing, MI 48824)
Saturday, Nov. 15:
10:00 a.m. – 3:00 p.m. Henry Ford Museum (20900 Oakwood Blvd, Dearborn, MI 48124)
Sunday, Nov. 16
10:00 a.m. – 1:30 p.m. FirstEnergy Stadium/Cleveland Browns Football Game (100 Alfred Lerner Way, Cleveland, OH 44114)
Monday, Nov. 17:
8:00 a.m. – 10: 00a.m. Kenworth Truck Company (65 Kenworth Drive, Chillicothe, OH 45601)
4:00-7:00 p.m. Charleston Town Center Mall (3000 Charleston Town Center Charleston, WV 25389)
Tuesday, Nov. 18:
11:00 a.m. – 2:00 p.m. Winter Wonderland in Marietta (205 Putnam St., Marietta, OH 45750
5:00 – 8:00 p.m. Oglebay Resort and Conference Center (465 Lodge Dr., Wheeling, WV 26003)
Thursday, Nov. 20:
4:30-6:00 p.m. Joint Andrews Air Force Base (Joint Base Andrews, MD 20762)