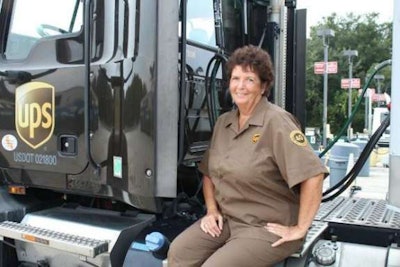 On Friday, when tractor-trailer driver Ginny Odom completed her usual 650-mile route hauling twin 28-foot trailers from Orlando to Unadilla, Ga., and back, she became the first female UPS driver in history to drive 40 years and more than 4 million miles without an accident.
Odom is the top female driver in UPS's elite Circle of Honor, which recognizes drivers who have avoided accidents for 25 years or more. She's one of only 42 active UPS drivers to reach 40 years without an accident, out of the company's 102,000 drivers worldwide.
"We're so proud of Ginny and her commitment to safety for four decades behind the wheel," said John McDevitt, UPS senior vice president of human resources and labor relations. "Outstanding Circle of Honor drivers like Ginny draw on their extensive safety training and attention to details to help keep all of us safe on the roads."
Odom was 23 and working at a boat store in Orlando when she applied for a driver job at UPS in 1973. She was the first female employee at UPS's Orlando hub, and drove the company's brown delivery trucks for nine years before moving to tractor trailers.
Globally, 7,221 active UPS drivers are members of the Circle of Honor. Collectively they've racked up over 198,000 years and more than 5.3 billion safe miles during their careers. That's enough miles to travel to Mars and back 19 times.