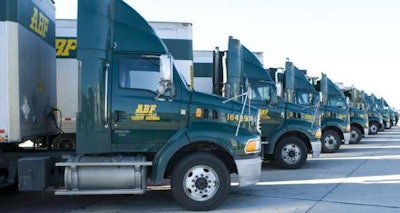 An Arkansas trucking company is the first ever firm to receive a major national safety award for seven times.
ABF Freight of Fort Smith, Ark., received the American Trucking Associations (ATA) President's Trophy, given for to the safest fleets. The award was presented during the ATA Safety Management Council's Safety and Human Resources National Conference and Exhibition in Orlando, Fla., Oct. 28-30.
"The ATA President's Trophy is the supreme national safety award presented to U.S. motor carriers," said Jacob Pierce, safety programs manager for the ATA Safety Management Council. "ABF Freight has been judged most outstanding on the basis of its safety record, programs and community outreach activities."
The President's Trophy is awarded each year to carriers in three categories based on cumulative miles driven annually: less than 25 million miles; 25 million to 100 million miles; and more than 100 million miles.
ABF Freight has now earned recognition in the "more than 100 million miles" category in 1984, 1989, 1993, 1998, 2003, 2010 and 2014.
"ABF Freight is proud to be recognized again with this prestigious honor," said ABF Freight President Tim Thorne. "This honor is due to the professional drivers of ABF Freight as well as the valuable contribution of all ABF Freight employees whose dedication to safety, cargo handling and customer service inspires confidence among customers throughout North America."
ABF is part of Arc Best Corp. (14th on the Commercial Carrier Journal's Top 250 List), which has almost 7,000 drivers.